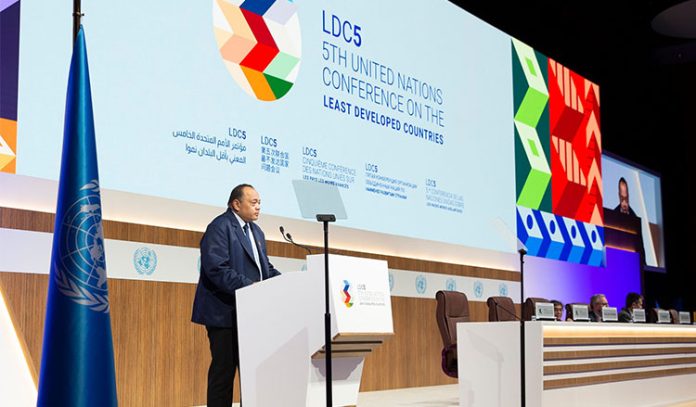 Climate change is our greatest security threat, Tonga's Prime Minister Hu'akavameiliku Siaosi Sovaleni, told the Least Developed Countries meeting, in Doha when he delivered Tonga's national statement this week.
"We face global commons issues among which climate change is our greatest security threat. The Doha Programme of Action prioritises climate change and will help LDCs build resilience against future economic and environmental shocks."
The Prime Minister urged delegates to do more, when reflecting on the score-card of half a century of addressing the needs of the most vulnerable, those who live in Least Developed Countries.
"We must close the funding gaps to meet the Sustainable Development Goals and move global commitment to spend US$100 billion on climate finance annually to action on the ground."
He acknowledged the significant challenges in LDCs in these times of global upheaval and the accelerating climate crisis.
He made his address during the General Debate of the Second Part of the Fifth United Nations Conference on the Least Developed States.
Prime Minister Hu'akavameiliku also co-host with the President of the Republic of Zambia, Hakainde Hichilema, the Sixth High-Level Roundtable on 8 March, which focuses particularly on the area of Health and recovery from the COVID-19 pandemic.
He shared Tonga's experience and how LDCs can build resilience to future shocks.
SOURCE: TONGA WIRES/PACNEWS