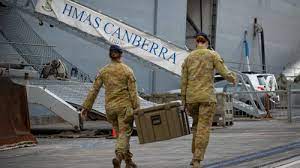 The Australian Government has deployed HMAS Canberra following a request from the Government of Vanuatu.
The 230-metre long Landing Helicopter Dock has completed loading equipment, stores and personnel and sail from its homeport of Sydney to Vanuatu to provide support to the country following Tropical Cyclones Judy and Kevin.
The Ship and more than 600 ADF personnel will bring a versatile set of capabilities to support the Whole-of-Government response to the cyclones, led by the Department of Foreign Affairs and Trade (DFAT).
The deployment of HMAS Canberra follows two Royal Australian Air Force aircraft which have already reached the Vanuatu capital of Port Vila.
A C-17A Globemaster has delivered a 12-person Rapid Assessment Team and Australia's initial humanitarian assistance, which includes, shelters, water purification supplies and other essential items for impacted communities.
Deputy Prime Minister, Richard Marles said: "HMAS Canberra has a significant capacity to provide ship-to-shore connections via its Landing Craft and three embarked Australian Army CH-47 helicopters, fresh water and has its own hospital facilities.
"The ADF personnel on board bring recent experience from other relief efforts in the region over the past two years and Defence is proud to support a member of the Pacific family."
Minister for Foreign Affairs, Senator Penny Wong said:"Our close partnership with Vanuatu means we have been able to mobilise assistance quickly and contribute to the Government of Vanuatu's immediate requests following Tropical Cyclones Judy and Kevin.
"With HMAS Canberra we are providing more humanitarian supplies and much needed logistical support. This shows our continued commitment to the Pacific family."
Minister for International Development and the Pacific,Pat Conroy said:"The Pacific family can rely on Australia to work with them in times of crisis."
"The deployment of HMAS Canberra follows two RAAF aircraft and Australia's rapid assessment team, who are supporting the Government of Vanuatu to assess the impacts of these cyclones.
SOURCE: DFAT/PACNEWS