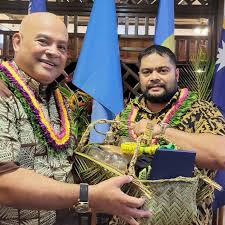 Nauru has been inducted to the Micronesian Islands Forum (MIF) during the February meeting of the region's leaders.
On 16 February, 2023, the Republic of Palau motioned, and the State of Chuuk seconded, the Republic of Nauru's induction in the MIF. After consultation with his parliament.
According to the MIF's communique, Nauru President Russ Kun, President of the Republic of Nauru, graciously accepted the invitation to become the 10th member of the MIF.
Meanwhile, Kiribati continues to be in receipt of a standing invitation to join the MIF "at its discretion and interest."
This annual summit brings together the six governors and three presidents of the Micronesia region.
The members of the forum are Guam, Palau, the Marshall Islands, the Federated States of Micronesia, and its member states of Chuuk, Kosrae, Pohnpei, and Yap.
In the meeting, the leaders also confirmed that it developed a regional gender equality framework
The recommendation was first proposed by the MIF Gender Equality Committee which was set up after the 24th MIF in 2018 to progress gender equality efforts across the North Pacific.
Leaders also committed to more intentional efforts to mainstream gender-based work into sectoral areas such as energy, maritime, and agriculture.
A concerted effort to mobilise resources to effect these outcomes will also be progressed over the coming two years.
SOURCE: ISLAND TIMES/PACNEWS