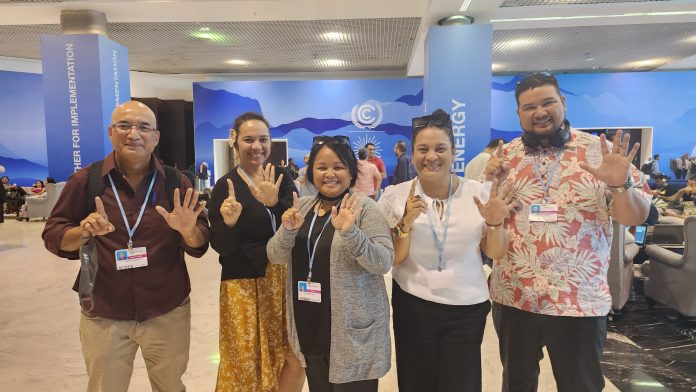 The Pacific Islands Forum Secretary General Henry Puna says the pressure is on major emitters and all other G20 nations to ensure COP27 keeps the Paris promise alive.
"More than any other COP since the 1.5, net zero carbon call was achieved in Paris at the 21st session, this year has to be the year we give our planet and all humanity, a fighting chance," says Secretary General Puna.
"Our world is in the grips of a climate crisis. Our COP27 host has declared this the implementation COP. Our Pacific leaders have declared a climate crisis and will continue their urgent call for urgent ambition and action across mitigation, adaptation, and loss and damage- and climate finance is key. It is the glue that holds implementation together. It is an outcome we cannot leave dangling for another minute, let alone another year," said SG Puna.
SG Puna and the Forum delegation are amongst the One CROP regional Pacific support teams joining an estimated three hundred Pacific negotiators, activists, and officials in Sharm-El-Sheik for opening formalities of the 2022 global climate negotiations.
He welcomed the high-level commitment of key Pacific leaders championing specific thematic areas at COP27: Cook Islands Prime Minister Mark Brown will be Climate Finance Champion and champion the Ocean-Climate Nexus, in support of the current champion, Fiji's Minister Khaiyum, who had similarly supported PM Brown last year.
Palau Minister of Agriculture, Fisheries and Environment Steven Victor will champion Environmental Integrity, Marshall Islands Minister for Natural Resources and Commerce, John Silk, will champion Climate Ambition, and Tuvalu Minister of Finance Seve Paeniu will champion Loss and Damage.
And Niue's Minister for Natural Resources, Mona Ainu'u, will be attending COP27 as the Gender, Social Inclusion and Adaptation Champion—a Pacific first and milestone for the UNFCCC.
"These champions are bringing their voice, joining all those who are here playing an integral role in keeping the spotlight on the critical pathway promised by the Paris Agreement, and the call of our Pacific that the solution rests in a 1.5, zero carbon world before 2050," said SG Puna.
He thanked the champions and heads of all Pacific delegations for the side events and other scheduled visibility actions on top of their presence in plenary and the negotiations, noting the efforts of the diplomatic corps lending strength to regional efforts. Amongst those attending from New York, Fiji's PRUN Dr Satyendra Prasad will be representing Forum Chair, Fiji PM Bainimarama to the CO27.
SG Puna also commended the leadership and strength of Climate Envoys, Pacific youth, climate negotiators, civil society networks, oceans and gender alliances, and specific campaigns for amplifying the urgency and messages of the Pacific in the world's largest annual meeting. "Everyone has a role to play, everyone has a voice when it comes to our 1.5 call," he said.
SOURCE: PIFS/PACNEWS