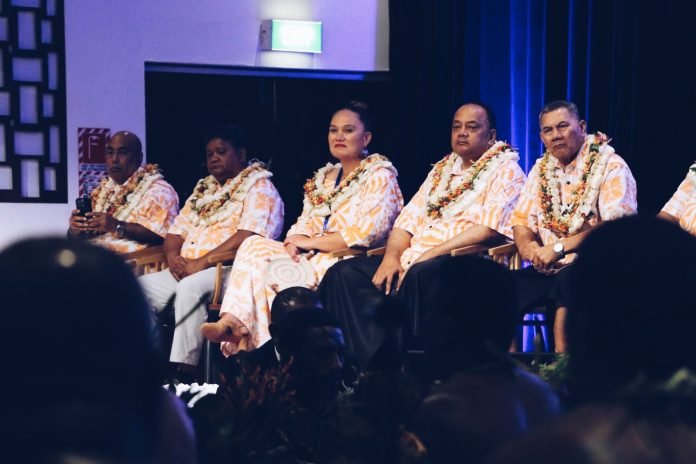 Deputy Prime Minister Carmel Sepuloni is in Fiji to represent New Zealand at a "politically important for New Zealand, but personally quite important" event.
It is Sepuloni's first overseas visit as deputy prime minister, and she is the first deputy prime minister of Pacific Island descent to attend the Pacific Island Forum Special Leaders' Retreat.
"Being part of the Pacific diaspora here in New Zealand, I can't understate how strong that connection is to the Pacific," Sepuloni said.
"We want to see our Pacific countries thrive as New Zealand, but also as a Pacific person, I want to see our Pacific countries doing well too."
Climate change is front and centre for many Pacific countries already experiencing the deluge and destruction caused by extreme weather events and climate-related risks such as sea level rise.
Sepuloni said she would be having discussions on climate change "with regards to what else they may need from us to support that".
"They are only too cognisant of the fact that we are feeling the brunt of climate change with recent weather events here. And so those are the conversations we need to have."
Another issue that would be raised at the meeting was the proposed plan by Japan to release treated, but still radioactive, wastewater from the Fukushima nuclear power plant into the Pacific Ocean.
Strong opposition from the Pacific saw a revised action plan from Japan, with additional safety measures and financial support for the local fishing industry.
Pacific Islands Forum Secretary-General Henry Puna told Stuff last month Tokyo had failed to communicate and be transparent about the discharge.
In August 2022, Stuff reported some Pacific workers were facing human rights violations, economic exploitation and substandard living conditions when working in New Zealand.
Asked about facing questions over the RSE scheme, Sepuloni said, "we want the scheme to work for New Zealand and Pacific countries".
"It has been successful in so many respects, but if there are areas where it can be improved, we should look at that, be that on New Zealand's end, or if there are decisions or measures that they need to put in place in Pacific Island countries to make it more effective for them, then we need to be receptive to that."
Asked if that included creating more immigration pathways, she said, "we've certainly been creating a lot of immigration pathways recently".
Sepuloni said the Pacific's trust in New Zealand, in light of influence from China and the U.S was incredibly important.
"We've a long-standing relationship with the Pacific. We have share this region with them. We have shared interests, whether that be climate change, whether that be security whether there is stability in the Pacific.
"It's not about New Zealand helping Pacific nations, it's about us working together."
Sepuloni said she was looking forward to the "free and frank" discussions.
"There's a number of Pacific leaders that I've met previously. I'm looking forward to seeing them again and continuing to strengthen that relationship.
Sepuloni says she's looking forward to "free and frank" discussions with Pacific leaders.
"And also just hearing from them, anything that isn't on our radar, perhaps that is of importance to them."
The event is the fifth Special Leaders' Retreat, held when there were pressing matters. This meeting would see Kiribati return, after withdrawing support mid-2022 due to the regional body's leadership.
The Kiribati government announced its return to the Pacific Island Forum earlier this month, after a meeting held between President Taneti Maamau, Forum secretary-general Henry Puna, and Forum chair and Fiji Prime Minister Sitiveni Rabuka.
SOURCE: STUFF NZ/PACNEWS