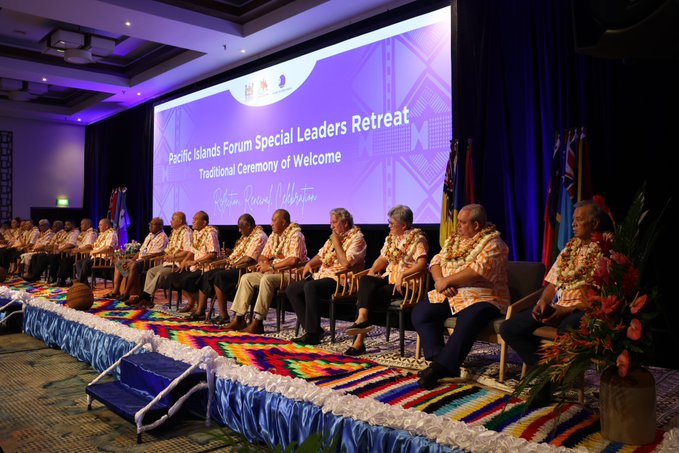 Pacific island leaders arrived in Fiji on Thursday for a two-day meeting to formalise the return of Kiribati to the 18-member regional bloc, amid tensions between China and the United States in the strategically located region.
The meeting will also discuss Japan's plan to release treated water from the destroyed Fukushima nuclear plant into the sea, which some Pacific islands fear could contaminate fish stocks but Tokyo has said does not pose a risk, an agenda showed.
Kiribati split from the Pacific Islands Forum on the eve of its last meeting in July, fuelling concern the atoll nation with vast fishing grounds located 3,000 kms (1,860 miles) southwest of Hawaii, had become isolated after forming diplomatic ties with Beijing.
"Set against the backdrop of increasing geopolitical interests in our region, coupled with the real threats posed by climate change… solidarity in our Pacific family is ever so critical,"" Fiji's prime minister and Forum chairman Sitiveni Rabuka said in a statement ahead of the meeting.
In May, China sought but failed to secure a 10-nation Pacific islands trade and security deal, after the forum said unity was the priority in a region where several states have ties with Taiwan and not Beijing.
Australia and New Zealand, both forum members, have criticised China's push for a policing role in the region.
On Tuesday, China released a paper on President Xi Jinping's policy called the "Global Security Initiative", which lists Pacific island countries as among Beijing's priorities for multilateral security cooperation.
China would "pay high attention" to Pacific island countries and "increase the provision of materials, funds and talents to help island countries improve their ability to deal with non-traditional security threats" the paper said.
China's ambitions in the Pacific islands have alarmed the United States and its allies, after Beijing struck a security pact with Solomon Islands.
Australia has moved to upgrade its military ties with Fiji, formed a security pact with Vanuatu, and expects to sign off a security deal with Papua New Guinea this year.
Australia's Foreign Minister Penny Wong signed a wide-ranging cooperation agreement in Kiribati on Tuesday.
Kiribati President Taneti Maamau said the agreement covered police cooperation and training, maritime surveillance, aviation, climate change, health, education and infrastructure.
"In relation to security, it is a very clear view, not only of Australia but of Pacific Island leaders, that we believe that security should be provided for within the Pacific family," Wong told reporters in Fiji on Thursday, when asked about Kiribati.
Australia, the major aid donor to the region, announced a AUD$620 million (US$422 million) health programme for the Pacific islands on Thursday.
Meg Keen, director of the Pacific Islands Program at the Lowy Institute in Sydney, said the focus of the meeting was "absolutely a show of unity" after Kiribati had agreed to return.
Discussing the wastewater disposal from Fukushima was also a high priority, given the region's experience with nuclear contamination after being used as a bomb testing ground decades earlier, she added.
SOURCE: REUTERS/PACNEWS