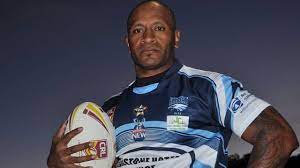 Waisake Kativerata has been appointed the new Head Coach and Coaching Director of the Fiji Bati.
Assistant Commissioner of Police (ACP) and Fiji National Rugby League Chairman Aporosa Lutunauga made the announcement of the new coach in a media conference in Suva today.
Kaiverata takes over from Josaia Rabele, who guided Fiji at last year's Rugby League World Cup in England.
"Wise has a lustrous record of 18 years as a player and 12 years as a coach. We are confident that Wise is the man to take bati to the 2025 World Cup and he will direct the entire program to the lead up," ACP Lutunauga said.
"Wise has the capacity to undertake this role in the next three years and is amongst the few who have NRL High performance level three coaching success rate in nurturing developing Fijian players for the NRL."
He also assumes the role of coaching director which was vacant since the departure of former coaching director Brendon Costar.
"Wise has practical experience in his space of pathways combined with his coaching knowledge; we are confident that he will successfully execute the program and ensure we meet our development target. He is responsible for mentoring and coaching our elite coaches hence ensures there is consistent application of a coaching philosophy across the country in terms of rugby league."
Some players Kativerata helped to secure NRL and Super League contracts include Sisa Waqa, Semi Radradra, Suliasi Vunivalu, Tui Kamikamica, Semi Valemei, Taniela Sadrugu, Tomasi Tikoilia, Gabriel Tabua and Iosefo Masi.
"The role of national director is responsible for formulating and executing the sports four year development and pathway plan. The plan ensures that players progress seamlessly from junior rugby league development to senior where athletes develop the right skills and knowledge of the game where we can identify talents which can join our academy and transition to elite high performance programs."
ACP Lutunauga also thanked out-going coach Josaia Rabele for his 30 years of service and taking over the role of Bati Head coach during a very challenging period.
"We are in discussion with Rabele about taking another role in the same sport in the near future."
Meanwhile, Kativerata also shared his excitement to guide the Fiji Bati to the next World Cup and said there are some plans in place for the end of the year test match.
SOURCE: FIJI LIVE/PACNEWS