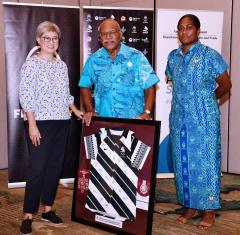 Fiji's Prime Minister Sitiveni Rabuka has acknowledged the Australian Government for its continuous support towards Fiji after the launching of the Fiji Rugby Union 2023 Women's Rugby campaign in Nadi Wednesday.
Officiating at the launch alongside Australia's Minister for Foreign Affairs Penny Wong, PM Rabuka highlighted that the gathering underscores the importance of our Vuvale partnership and while we are bound together by geography, it is sport that brings our people together.
"This is evident in the immeasurable impacts that the PacificAus Sports is making in ensuring that Pacific and Australian athletes are not only training and playing together at the highest levels but also forging dizzying heights of excellence and friendship."
"he Government of Fiji is committed to seeing this partnership grow not only as an enabler for achieving Sustainable Development Goals (SDGs) but more importantly and as Mandela said in 2000: "Sport has the power to change the world. It has the power to inspire. It has the power to unite people in a way that little else does. It speaks to youth in a language they understand. Sport can create hope where there was only despair"
PM Rabuka also commended the accomplishments of Fiji's Women's Rugby teams, that have against all odds made a series of exceptional accomplishments in the last few years, since its relaunch in 2017 by winning the Super W in its maiden season, Olympic bronze medal in 2021 and a silver in the 2022 Commonwealth Games
"Today, I'm proud to celebrate notable achievement of Fiji Rugby Union and rugby's remarkable treasure trove of two Olympic gold medals, one bronze medal, one quarter-cup final at the Rugby World Cup and the Rugby Sevens Series champions and one Super Women's win and also one Prime Minister. Twice. I also acknowledge the accomplishment of the women rugby league teams in Fiji that, have against all odds, made a series of exceptional accomplishments in the last three years. Well done girls. That is, since it was launched in 2017, by winning the Super W in its maiden season, Olympic bronze medal 2021 and a silver at the 2022 Commonwealth Games.
"I'd like to acknowledge the incomparable support of the Government of the Commonwealth of Australia and the people of Australia. Thank you very much. Today's gathering underscores the importance of our Vuvale partnership and I just clarified that concept with the Honourable Minister that Vuvale is not neighbourly. Vuvale is one home. Family. That's our people together. I'm reminded of a significant event in 1952 when the Fiji Rugby – when Fiji Rugby rose to accept the invitation of Australian Rugby Union to Australia as part of fundraising event to assist the Australian Union – to assist in the revival of Rugby Union in Australia and reliably informed, Fiji stepped in, in order so that our international unions were incapable of accepting the invitation, and most remarkable is that the tour was a resounding success for both our Unions.
"Therefore, we must all continue that momentum of the kind of support that has made today possible. I'd like to acknowledge the local businesses who have stood in the depth for our women. ANZ – you recognise that – Australian-New Zealand Bank. CJ Patel Group of Companies, Royal Tea, Fun Flavour, and WeetBix brands, Fiji Airways, Fiji Gas, Rooster Chicken and Tropical Industries Limited. That we look forward and prepare for the enormous decade of sports and rugby ahead of us, we know that there is significant opportunity to progress together as one Pacific Vuvale.
"The Fiji Rugby Union is keen to partner with Rugby Australia and PacificAus Sports in the upcoming tournament and competitions culminating in the 2032 Brisbane Olympics. In commemorating their journey – in commemorating their journey, let us continue to reflect on the lessons and achievements that we have experienced together as a Vuvale. Let us also take the time to renew our commitment to that Pacific Vuvale. Let us recognise that our unique cultures and traditions are what binds us together today. We've come together, this long, this far and we come together again to mark and celebrate together that which unites us and makes us strong," said PM Rabuka.
SOURCE: FIJI GOVT/PACNEWS