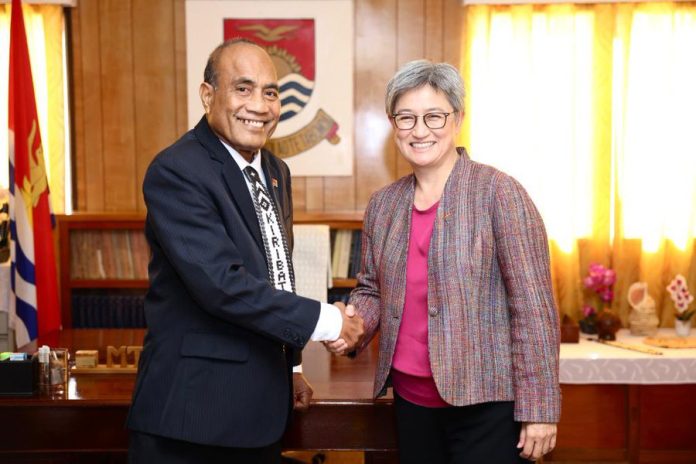 Australian foreign minister Penny Wong has announced Australia will rapidly scale up security and development cooperation with the sprawling Pacific Island nation of Kiribati as the federal government tries to ensure China doesn't gain a strategic foothold in the country.
The foreign minister met Kiribati's President Taneti Maamau Tuesday in the capital Tarawa on her first visit since Labor won power last year.
Ties between the two nations have been strained by Maamau's deeply controversial move to sack Australian and New Zealand judges serving on the country's highest courts, Kiribati's split from the Pacific Islands Forum last year, and Australia's push for nuclear powered submarines.
But the two countries have now signed a "Nurturing the Partnership" Memorandum of Understanding (MoU), with Australia making a raft of new commitments to upgrade critical infrastructure in Kiribati and cement security ties.
The document hasn't yet been released, but Maamau declared it would "provide a significant leg up to future areas of cooperation" and "tangible outcomes towards the prosperity of our peoples and our nations".
The president said under the MoU, Australia would deliver Kiribati a second Guardian-class patrol boat in addition to the vessel handed over by the federal government last year.
The patrol boats have been plagued with defects but are still a crucial part of maritime surveillance efforts in a host of Pacific Island nations.
Maamau also said Australia would deliver "expanded … training and support" to local police in Kiribati, including cybersecurity training and preparation for UN peacekeeping missions overseas, as well as upgrading police barracks and helping his country with "extended maritime domain awareness and surveillance support".
Australia has also agreed to upgrade Betio Port near Tarawa and help develop new climate adaptation initiatives in the low-lying country, which faces calamity if seas continue to rise.
Maamau and Senator Wong also said that Australia would upgrade the wharf on the tiny island of Kanton.
The isolated atoll hit the headlines in 2021 when it was revealed China had given financial backing to a Kiribati government plan to upgrade an old airstrip on the island.
Both China and Kiribati insisted the upgrade was designed to improve transport and bolster tourism, but U.S officials feared that Beijing was eyeing a potential military foothold in the strategically crucial location.
Kiribati only recognised China in 2019 when it ditched recognition of Taiwan, but Maamau has rapidly built up the relationship since then, signing a host of agreements with Beijing and agreeing to open up the vast Phoenix Islands Protected Area to fishing.
Dr Anna Powles from Massey University said that strategic competition was "certainly a driver behind Australia's scaled up engagement with Kiribati".
"The MoU targets areas such as security cooperation, maritime security and maritime infrastructure, cybersecurity and disaster response which are increasingly areas of geopolitical contestation in the Pacific," she told the ABC.
"Australia will be seeking to fill any gaps that may be seen as strategic opportunities for other actors — state and non-state — in the region."
Dr Powles suggested Kiribati was also seeking to "fill those gaps, as identified in its national development plan", and that it would "quite rightly leverage the increased interest" from countries such as Australia.
Canberra's anxieties over Kiribati have also been amplified by its isolation in the wake of the Pacific Islands Forum split, as well as by Maamau's increasingly authoritarian behaviour.
Last year the president sacked all the country's senior judges, and attempted to deport High Court Justice David Lambourne, an Australian citizen who is married to Kiribati opposition leader Tessie Lambourne.
Kiribati is now on the brink of formally returning to the Pacific Islands Forum after endorsing the Suva Agreement, but David Lambourne told the ABC that he hoped Senator Wong would raise "ongoing threats to the rule of law in Kiribati" when she sat down with Maamau.
"We have not had a functioning Court of Appeal for more than 6 months," he said.
"The operations of the High Court continue to be hampered by the government's apparent refusal to appoint the additional judges needed to ensure that it can function effectively.
"These are matters that should be of great concern to Australia and the region."
Dr Powles told the ABC that Australia's "step up in Kiribati does not need to be at the expense of continuing to raise concerns about the rule of law".
"It would certainly be disappointing if matters of democratic resilience were traded for access and influence," she said.
Senator Wong is not expected to meet with Lambourne on her visit to Kiribati, and didn't make any references to the controversy in her brief public remarks on Tuesday.
But she declared that the new MoU struck by the two countries showed that "ultimately our security and your security, our prosperity and your prosperity, our resilience and your resilience, are intertwined".
"And so when we work with you in support of those, the economic and human aspirations that you seek for your people, we see that as a project that we have a stake in for our people as well," she said.
SOURCE: ABC PACIFIC/PACNEWS