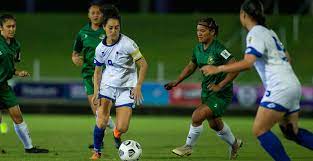 Ilaoa &To'omata have flown under the radar but see themselves as dark horses for the Oceania Champions League qualifying tournament starting in Apia Samoa on Saturday.
The American Samoan champions are competing in an OFC Champions League competition for the first time having played 20 matches and going unbeaten with 17 wins and three draws.
Coach Steffany Godinet says only five of her 18 strong squad have played football outside of American Samoa previously.
"Preparation has been good. Our boys are nervous but at the same time they are excited to get the experience in and get going." Godinet said.
"We are the underdogs but beware we are a very strong team, a strong group of young men who look forward to the competition on the field." Godinet said.
While the other three teams did some recruitment during the transfer window, Ilaoa &To'omata have a squad exclusively from their club and Godinet says their team spirit is strong.
The team from American Samoa play host side Lupe Ole Soaga from Samoa in the second match on day one from 4 p.m at the Football Federation Samoa National headquarters.
Their manager Lai Tautiaga is confident his young team will perform in front of their family and friends.
"We are well prepared. It is the second time Lupe is hosting an OFC tournament and we are looking forward to showcasing our abilities." Tautiaga said.
He is urging the local community to get behind his side and local officials are confident a good crowd will attend the matches.
Tautiaga says he won't be taking American Samoa lightly.
"We have a lot of respect for them. We feel that we still have to prepare for it because we haven't seen them playing and don't have any footage of them playing" Tautiaga said.
The tournament kicks off at 1pm local time with Cook Islands side Maraerenga FC meeting Tonga champions Veitongo FC.
The side from the Cook Islands endured a nightmare travel journey to Apia. Their initial flight through Auckland turned back to Rarotonga an hour before landing on Tuesday. The flew out the next day and had to overnight in Auckland before being the last team to arrive for the tournament on Thursday afternoon.
Coach Tuka Tisam admits their travel difficulties have only added to their motivation.
"Yes, we are very determined, it was pretty tough to get here but we made it." Tisam said. "We have a lot of young players who don't have much experience, but we are excited for the opportunity."
For Veitongo FC coach Timote Moleni, while he's looking forward to bonding with their Pacific rivals off the pitch, on the pitch winning the tournament is the focus.
"Our expectation is to be here, family, friends, respect outside and when they go inside no more respect." Moleni laughed.
The winner qualifies for the OFC Champions League tournament to be played in Vanuatu in May.
Match Schedule:
Feb 18 |Tupapa Maraerenga FC v Veitongo FC –1pm
Feb 18 | Ilaoa & To'omata v Lupe Ole Soaga SC – 4pm
Feb 21 | Tupapa Maraerenga FC v Ilaoa & To'omata 1pm
Feb 21 | Lupe Ole Soaga v Veitongo FC – 4pm
Feb 24 | Veitongo FC v Ilaoa & To'omata –1pm
Feb 24 | Lupe Ole Soaga v Tupapa Maraerenga FC – 4pm.
SOURCE: OFC/PACNEWS