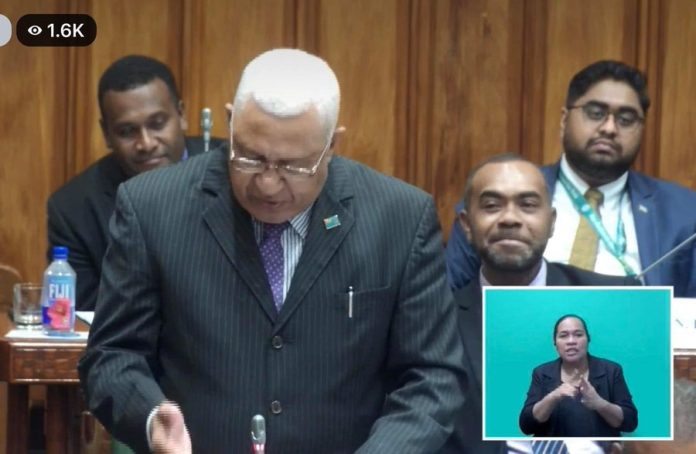 The decision on whether Fiji Opposition Leader Voreqe Bainimarama will remain as a Member of Parliament hangs in the balance.
Today, outside Parliament, senior members of the party opted not to comment about who will lead the party in Parliament should Bainimarama lose his seat in Parliament through a suspension.
Inia Seruiratu, a former Minister and Leader in the previous government in Parliament says the party has not yet decided.
"Thank you for the question, I have no comments."
Former Minister for Commerce, Trade, Tourism, and Transport Faiyaz Koya says there is no reason for the party to have this discussion of appointing a new Opposition Leader.
"It's a bit presumptuous, there is nothing."
Another senior member and former Minister Jone Usamate opted not to comment on this issue.
New FijiFirst MP and former Commander of the Republic of Fiji Military Forces Viliame Naupoto says the decision rests with the party.
"Not yet, they haven't. We will wait and see."
Former Police Chief Ioane Naivaluarua's name has been noted as a potential leader for the Opposition Party.
Parliament Privileges Committee chair Lenora Qereqeretabua says the committee will elaborate again on the formal complaint against Bainimarama this afternoon.
"We are working on precedence as well, there have been four privilege committee decisions over the past few years so we are working on that as guidance as well but I will be able to tell you more later today."
The Speaker ruled Thursday that Bainimarama breached the Standing Orders when he delivered his maiden speech on Monday.
Bainimarama stated that President Ratu Wiliame Katonivere has failed the Fijian people and will be remembered as the person who aided and abetted the most incompetent and divisive government.
Meanwhile, Fiji Police will forward the investigation files of the former Prime Minister, the former Attorney General and the suspended Police Commissioner to the Director of Public Prosecution for legal advice.
In the meantime, the questioning process of Voreqe Bainimarama and Aiyaz Sayed-Khaiyum has been suspended.
Chief of Intelligence, Investigations and Prosecutions, Acting Assistant Commissioner of Police Sakeo Raikaci said the Special Taskforce continues its investigation into other reports lodged against senior political figures and former Supervisor of Elections.
Police had said that Bainimarama and Sayed-Khaiyum's questioning this week was for alleged abuse of office.
SOURCE: FBC NEWS/PACNEWS