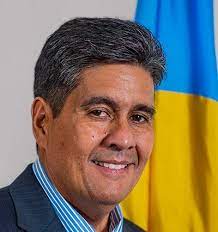 Palau President Surangel Whipps Jr is looking for a budget boost by submitting earlier this month a proposed supplemental financial package amounting to almost US$5 million.
In a letter to the Olbiil Era Kelulau (OEK) on 01 February, 2023 requested a supplemental budget of US$4,923,000 for recurring programs and activities of the National government.
"This bill prioritises policy initiatives that will continue our efforts to improve government programmes and services to ensure we are responsive to the needs of our communities, especially during a time of post pandemic economic recovery," President Whipps said.
The president is asking for additional money for Child Raising Subsidy in the amount of US$400,000. US$500,000 for the Compact Review Advisory Group and US$2,400,000 proposed authorisation and the amount of US$1,800,000 is proposed for appropriation as funding contribution for the supplemental Social Security payments.
For the bureaus and ministries, Whipps is looking for a supplemental budget for the Vice President's Office, Palau Energy and Water Administration, Bureau of Custom and Border Protection.
The supplemental budget proposal is also asking for a supplemental budget for the Bureau of Public Safety to hire more officers and more money for the Office of the Special Prosecutor to cover increased operating expenses.
The Financial Institution Commission, Whipps said also needs additional money to cover the cost of its new role to oversee the Corporate Registry and Fintech Initiatives.
The supplemental budget is also asking the allocation of 10 percent of the annual revenues from alcoholic beverages to go to the Healthcare Fund to cover the costs of its role to manage the Medical Referral Programme.
SOURCE: ISLAND TIMES/PACNEWS