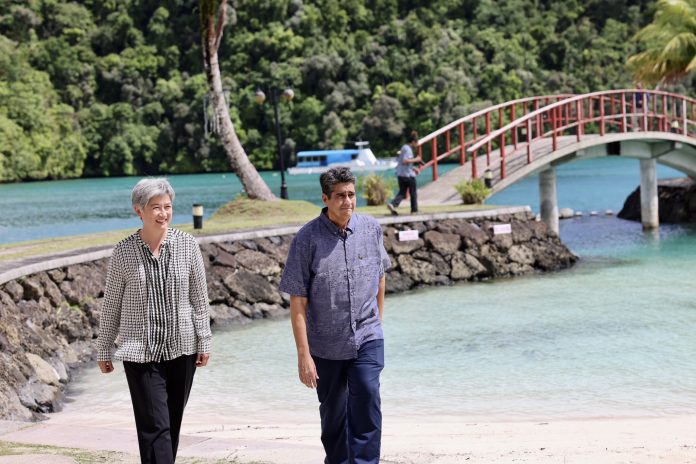 "It's about time we bring this to the Pacific," said Palau President Surangel Whipps Jr., of Australia's plan to host COP31 (Conference of the Parties on Climate Change) in 2026.
Australia had expressed its intent to bid to host COP31 in 2026. It hopes to co-host the event with Pacific Island countries. President Whipps confirmed that he was approached at COP27 by the Australian delegation seeking Palau's support and had given his support.
Palau's President Surangel Whipps Jr commended Australia for its commitment at COP26 to reduce carbon emissions by 43 percent by 2030. "That's a big step. from their previous 30% commitment to 43 percent. And they are also committed to developing renewable energy and currently helping us with our solar energy project," added Whipps.
Australia's announcement has not been received by all in the Pacific with the same enthusiasm. Critics have cited Australia's past record on climate change issues, where it had been at odds with Pacific island countries.
"Our motivation for seeking to host this is because we want more ambition, domestically and internationally. We believe that the voices of the Pacific and the small island developing states…are powerful. Our motivation is…because we want to keep the world on track, to stay below 1.5 and to make sure that Paris and Glasgow commitments are made," Senator Penny Wong said of Australia's expressed intention to host COP31.
"We accept that we have to do more…but our economy and the global economy… it is like a big boat sailing in one direction with a very emission-intensive economy. When you push the rudder, it takes a little while to stir… we are pushing the rudder and we ask for patience recognizing we have pushed the rudder," added Wong responding to what Australia's doing to address criticisms of its past stance toward climate change.
Regarding climate change, Australia is on track to exceed targets it set toward reaching net zero said Shadow Minister for Foreign Affairs Senator Simon Birmingham, the opposition leader who joined the Australian bi-partisan delegation tour to three Pacific island countries, Vanuatu, Federated States of Micronesia and Palau.
Shadow Foreign Minister Birmingham explained that there are changes underway in Australia, such as record levels of investment in renewable energy but the domestic political debate has not helped Australia convey clearly these changes.
During the brief visit around Palau last week, the Australian high-level delegation visited the largest solar farm in Palau, currently under construction, made possible with funding from the Australian Infrastructure Financing Facility for the Pacific.Once completed, the facility will provide 20 percent of Palau's energy needs from renewable energy.
SOURCE@ ISLAND TIMES/PACNEWS