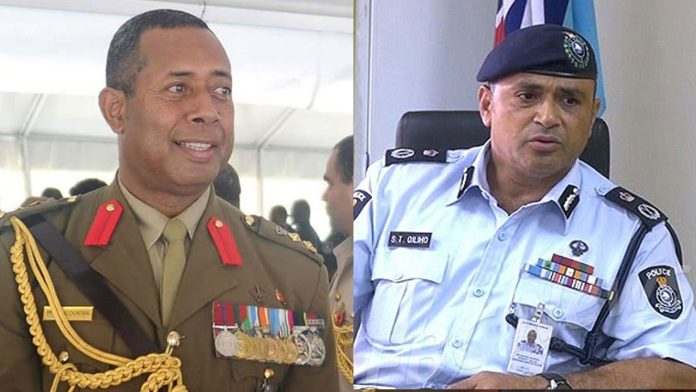 Fiji's military has been called in to help Fiji police maintain law and order situation in the country, amidst growing concerns of racial tension against minority groups.
This was confirmed by Fiji Police Commissioner Sitiveni Qiliho in response to the political climate facing the country after the general election.
"As more information and reports are received by the Fiji Police Force and Republic of Fiji Military Forces (RFMF) of threats made against minority groups who are now living in fear following recent political developments, a decision has been reached to call in the Republic of Fiji Military Forces to assist Police with the maintenance of security and stability that we have enjoyed," said Qilho.
"A meeting was held today between Prime Minister Josaia Voreqe Bainimarama, Minister for Defence, National Security and Policing Inia Seruiratu, RFMF Commander and Director General National Security Major General Jone Kalouniwai and myself, where we came to an agreement for RFMF personnel to assist Police with the maintenance of law and order, amidst growing concerns of racial tension," Qiliho said in a statement.
Qiliho said it's a consensus decision based on official reports received, intelligence and information gathered and the evaluation of the current security landscape where minority groups continue to be targeted and information of planned civil unrest received.
"I also reiterate my earlier call for social media users to be mindful and aware of the implications their posts are having on the overall security landscape.
"The continuous attacks on minority groups has aggravated the current tense situation.
"While the Army and Navy personnel have been called in to assist, Police will continue to lead the overall security operations led by the Chief Operations Officer (COO) Assistant Commissioner of Police (ACP Abdul Khan who will be collaborating with the RFMF to ensure the safety and security of all Fijians as we see through the current political process," said the Police Commissioner in a statement.
Under the 2013 constitution of the Republic of Fiji, the RFMF is mandated to be the guardian of Fiji carrying out the mandate of the people through their National Administration.
"It shall be the overall responsibility of the Republic of Fiji Military Forces to ensure at all times the security, defence and well-being of Fiji and all Fijian.
Meanwhile, Prime Minister Voreqe Bainimarama said on Facebook:"So long as it is our responsibility to serve in government, we will fulfil our duty to every Fijian's safety.
"The reports of harassment suffered by our citizens and violence targeted at Indo-Fijian homes and businesses in the wake of the election are deeply disturbing. These attacks — which are no doubt fueled by racist vitriol on social media — must end.
"The RFMF has been deployed to complement the Police in maintaining law and order. If you see violence being committed, report it!," said Bainimarama.
SOURCE: PACNEWS