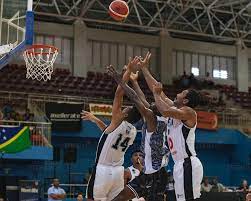 Fiji's Basketball men's team has secured a spot in the 2023 Pacific Games through a wild card entry.
Fiji is among one of the eight teams that has been included alongside FIBA Micronesian cup champions Guam, Melanesian Cup winner New Caledonia, silver medallist Papua New Guinea, FIBA Polynesian Cup gold medallists, Tahiti and silver medallists, Tonga and host nation Solomon Islands to round out the qualified men's teams.
Fiji lost their chance to qualify when they went down to New Caledonia at the FIBA Melanesian Cup earlier this year. But they defeated Solomon Islands, 67-53 to win bronze.
In the women's competition, Guam qualified as the FIBA Women's Micronesian Cup gold medallists with FIBA Melanesian Cup Champions, Fiji qualifying alongside silver medallists, Papua New Guinea.
FIBA Polynesian Cup back-to-back champions, the Cook Islands have also qualified with silver medallist Samoa securing their spot to finalise the qualified women's teams.
In the final eight, host nation, the Solomon Islands will also be participating alongside wildcard entries, New Caledonia, and Tahiti.
FIBA executive director – Oceania, Amanda Jenkins, said that the Pacific Games provide teams across the region with the opportunity to qualify for the Asia Cup, which ultimately led to the FIBA World Cup qualification.
"This is the second time we have used regional qualifiers for the Pacific Games, which in turn serve as qualifiers for the FIBA Asia Cup in both the men's and women's competitions," she said.
"Guam men are a great example of how this pathway is benefiting federations in Oceania; they won the Pacific Games in 2019 and narrowly missed out on FIBA Asia Cup 2023 qualifiers with a narrow loss to Chinses Taipei.
"They are now in the mix for the FIBA Asia Cup 2025 pre-qualifiers. "Our regional FIBA events and the Pacific Games provide a valuable pathway for basketball to thrive across Oceania, inspiring the next generation of basketballers.
"We look forward to the Pacific Games in 2023 and seeing all teams perform on court after 12 months of preparation."
Pacific Games chief executive officer Andrew Minogue said the Pacific Games Council and our hosts in the Solomon Islands looked forward to the competitions at the 2023 Pacific Games and congratulates FIBA on creating excellent qualification pathway for teams.
"The 2023 Pacific Games are shaping up to be a landmark event for the host nation, the Solomon Islands, as well as for sport in the Pacific," he said.
"The venues construction program is progressing well, and the delivery of the Games is in good hands, with a very capable Games Organising Committee being provided with excellent support from the Solomon Islands Government and donor partners.
"Basketball, as one of the compulsory sports, will be a real highlight of the Games, with exciting 5on5 as well as 3×3 competitions, with representation from nations across the Pacific.".
SOURCE: FIJI TIMES/PACNEWS