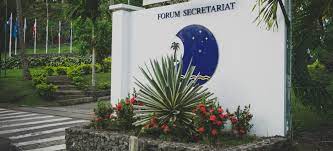 The Pacific Islands Forum Secretary General, Henry Puna has congratulated the Fijian people for exercising their democratic right through 14 December General Election.
"I have observed with close interest the conduct of the 2022 General Election in Fiji over the last few days and note the preliminary findings of the Multinational Observer Group last Friday and the declaration of the final results Sunday afternoon by the Supervisor of Elections.
"I congratulate the Fijian people for exercising their democratic right through this election process, commend the orderly and effective running of these elections and congratulate all involved at all levels for ensuring the peaceful conduct of the elections.
I also acknowledge the inclusion of the Pacific Islands Forum in the Multinational Observer Group, reaffirming Fiji's commitment to the good governance principles as articulated in our political commitments as a Forum Family, including the Biketawa Declaration," SG Puna said in a statement.
He is also confident a peaceful transition will be made on the formation of a new government.
"I remain confident in the constitutional processes to ensure a peaceful transition towards the formation of Government.
Finally, may I convey the well wishes of the Blue Pacific to the people of Fiji and the Leaders you have elected," he said.
SOURCE: PIFS/PACNEWS