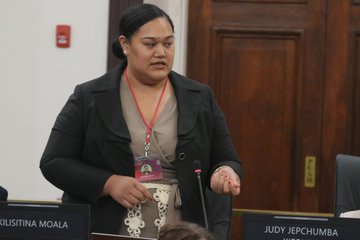 There were strong, sincere statements and lamentations for Tonga, which has been severely hit by climate change.
That was how contributions from visiting Commonwealth Youth Parliamentarians flowed in Tuesday's debate, where Tonga's representative Kilisitina Moala took the opportunity to deliver a weeping lament that her homeland was sinking.
The CYP debate in Parliament on a proposed law for Remote Workplace operations was suspended for several minutes after Moala broke into tears.
When proceedings resumed, she began speaking but also continued weeping as she spoke of her beleaguered homeland.
All CYP speakers rose and applauded Moala after she concluded in tears, saying, "To all leaders listening in, be mindful of all decision making. Always put in mind to small island nations who are suffering the enormous consequences of climate change … our choices today determine the outcome of tomorrow – thank you."
The dra­matic development occurred during day two of the three-day CYP held by the Commonwealth Parliamentary Association. T&T is hosting the event for CYP delegates from most of the Commonwealth's 56 mem­ber coun­tries.
The foreign CYP attendees representing the Government and Opposition spoke in Tuesday's debate on the bill for the fic­tion­al coun­try of "Kairi and Chaconia."
Acting as House Speaker, T&T Opposition MP Anita Haynes didn't have cause to "rein in" speakers despite some energetic contributions.
However, Haynes suspended proceedings briefly when government speaker Moala became overcome with emotion during her contribution. She'd started strongly, noting the environmental approach and the bill's potential to fight climate change due to people working at home, travelling less and reducing global emissions. She also cited the recent COP27 event providing climate change solutions.
Moala said the Opposition's decision-making led to the enormous effects of climate change.
Then she added, "I would like to reference the kingdom of Tonga and the Pacific island nations … (who are)."
Picking up a handkerchief and dabbing her eyes, she continued, "Prone and stands vulnerable … to climate change."
There was applause from the Opposition, then from the Government, which sought an extension of her speaking time. All agreed. But Moala could be heard gasping and crying as she attempted to continue. Haynes then announced the suspension.
After proceedings resumed, Moala repeated, "I want to reference the kingdom of Tonga and the Pacific Island nations who are prone and stand vulnerable to climate change…"
"And as the only Pacific representative here," she added, dabbing her eyes, she added, "Sorry…excuse me."
Moala made a plea to all leaders present or who were joining in the gathering spiritually.
"On behalf of all island nations of the Pacific, the people are only responsible for 0.3 per cent (pause) but the most vulnerable to climate change and global warming and natural disasters."
There was desk thumping support for her.
SOURCE: THE GUARDIAN/PACNEWS