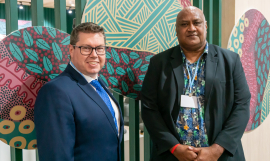 The Government of Australia and the Secretariat of the Pacific Regional Environment Programme will work in partnership to enhance the engagement of Pacific Islands in the climate change negotiations.
The new negotiations support project will help strengthen the negotiation skills of Pacific Islanders, better resourcing them to amplify the Pacific Islands voice.
"The Australian Government is pleased to provide this support to the Pacific family to strengthen capacity to engage in international processes, critical to the fight against climate change," said Australia's Minister for International Development and the Pacific, Pat Conroy.
Australia and the Pacific are also preparing to bid to co-host the Thirty-First Conference of the Parties to the UN Framework Convention on Climate Change (UNFCCC COP31) in 2026.
"In hosting COP31, Australia and Pacific countries would profile the impact of climate change on the region, accelerate global action and harness the economic opportunities from the clean energy transition", Minister Conroy said.
The Pacific Small Islands Developing States negotiate with the Alliance of Small Islands States within the UNFCCC process, playing a crucial role through history with bringing about positive commitments from more than 195 Parties.
In 2015 the Republic of the Marshall Islands formed the High Ambition Coalition in run-up UNFCCC negotiations to the Paris Agreement in 2015. It helped secure key elements of the Paris Agreement such as the 1.5 degrees Celsius temperature goal, the net zero global emissions pathway by the second half of the century, and a five-year cycle for updating mitigation contributions.
The Marshall Islands was also the first in the world to submit its Intended Nationally Determined Contribution to the UNFCCC Secretariat in 2015 and was then the first in the world to submit its updated NDC in 2018, two years ahead of the 2020 deadline.
"While we may be small, our Pacific Islands have been mighty. We have made huge strides navigating the world towards progress on the global climate change negotiations stage," said Sefanaia Nawadra, Director General of the Secretariat of the Pacific Regional Environment (SPREP).
"Through this support from the Government of Australia, and the expertise and institutional knowledge contained within SPREP, we will continue to support our Pacific Small Islands Developing States, empowering them for even more effective engagement in the UNFCCC process."
Minister Conroy met with Pacific leaders and ministers on the margins of COP27 now underway in Sharm el-Sheikh in Egypt, all of whom welcome the implementation of this work.
The 27th Conference of the Parties to the UN Framework Convention on Climate Change (UNFCCC COP27) is being held in Sharm el-Sheikh, Egypt from 06 to 18 November 2022.
It is being attended by Pacific leaders and their delegations, who are advocating for their survival.
SOURCE: SPREP/PACNEWS