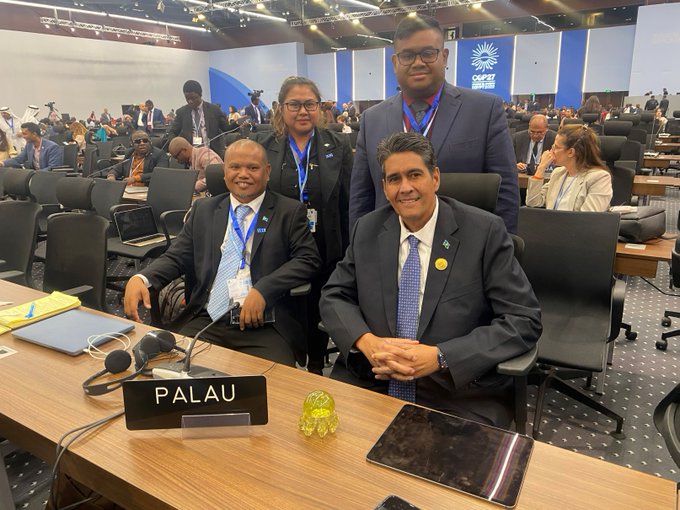 The extreme heat from the climate crisis has killed more than 30 million of Palau's beautiful, non-stinging jellyfish in its world-renowned Jellyfish Lake, robbing the Pacific country of one of their star tourism attractions, and impacting its economy.
It is one of many impacts of climate change, including sea level rise, droughts and issues with food security, highlighted by Palau's President, Surangel Samuel Whipps. He was addressing the high-level plenary of the 27th United Nations Framework Convention on Climate Change Conference of the Parties (UNFCCC COP) in the city of Sharm El-Sheikh, Egypt, on Tuesday.
"This is the 3rd known event. It also occurred in 1997 and 2017. Each time they disappeared for two years. As one of our star attractions, we are at risk of losing a critical component of our tourism industry, further decimating our economy," said Whipps.
"This reality underscores our urgent call today, for all States to do what's needed to limit global warming to 1.5 degrees. We should no longer be held hostage to fossil fuels."
COP27 opened on Monday with the key aim of ensuring full implementation of the Paris Agreement.
The meeting takes place after a year of extreme floods, heat waves, severe droughts and devastating cyclones, all pointing to the escalating climate crisis.
For the Palau President, he said COP27 must be treated as an opportunity to take meaningful steps to help the most vulnerable, especially people living in the Pacific who are at the forefront of climate change.
We should no longer be held hostage to fossil fuels. Let's not let the war in Ukraine serve as an excuse for us to backslide on our commitment to transitioning to renewable energy. Today, we're calling for those who are the largest emitters of pollution to take responsibility for the damage they cause; loss and damage to be fully operationalized; and easier and faster access to climate financing for adaptation and mitigation in the form of grants and not loans," said President Whipps.
Palau also urged the developed nations to deliver on the 100billion climate finance commitment.
Whipps told of a legend in Palau where two men lived in adjoining caves in Oikull, in Airai.
"Beriber was good at making coconut syrup and Chemaredong at catching fish. Because they thought they were alone, they threw away their surplus. When they realized they weren't alone, they shared their excess and lived abundant lives."
The President said there are lessons for world leaders at COP27 to take from the Palau experience.
"With everyone working together, we can address climate change. We share one ocean, one atmosphere, we must share the responsibility to provide innovative solutions and commit to change our behaviour. I'm not giving up, I know that keeping below 1.5 is achievable, however together nothing is impossible," he said.
SOURCE: SPREP/PACNEWS