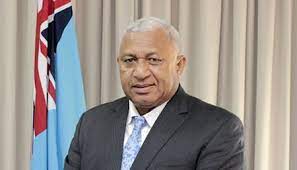 Fijian Prime Minister and Chair of the Pacific Islands Forum Frank Bainimarama has welcomed New Zealand government's announcement to allocate NZ$20 million (US$11.9 million) for loss and damage.
"The Pacific is proud to see New Zealand lead on loss and damage finance.
"There's no adapting to the loss of islands and communities, and it's past time that developed nations stopped subsidising fossil fuels and started supporting those who will lose the most to this crisis," said PM Bainimarama on twitter.
Vanuatu has also welcomed the New Zealand government's commitment to allocate NZ$20 million (US$11.9 million) to address climate-related loss and damage in developing countries.
Vanuatu's special envoy on climate change Bakoa Kaltonga said the climate crisis is resulting in fundamental human rights being violated on a global scale.
"We are now measuring climate change not in degrees of Celsius or tons of carbon, but in human lives," said Kaltonga.
He said that is what loss and damage means to Vanuatu, and it welcomes the New Zealand government's dedicated funding and all efforts to finally mobilise the funds urgently needed to address the devastation of this climate emergency.
The New Zealand government announcement on loss and damage in developing countries could signal a momentum shift at COP27.
"Dedicating funding for loss and damage places Aotearoa New Zealand at the leading edge of wealthy countries who are supporting action to address loss and damage from climate change. It strongly signals our support for Pacific priorities," Foreign Minister Nanaia Mahuta said.
Pacific Islands Forum Secretariat spokesperson Karlos Moresi said New Zealand's move sends a strong signal to other nations.
"There is a very positive vibe between the Pacific negotiators and Australia and New Zealand. Within the developed countries there are varying views, I think the view is there is loss and damage but how we address it is the sticky point."
It is significant because before COP27 even started other developed countries were pushing back in negotiating rooms over a loss and damage sub item.
Negotiators tried to agree on the language, but developed countries insisted loss and damage should not have anything to do with compensation or liability and they wanted that noted.
Moresi said a note has been made stating the outcomes of this agenda item are based on cooperation and facilitation and 'do not involve liability or compensation'.
While some people may view the wording as a cop out, there are other legal measures that can be pursued, he said.
The New Zealand government has labelled negotiations as 'frustratingly slow'.
"As one of only three countries in the world to dedicate such funding – and with loss and damage on agenda for the first time at global climate negotiations in Egypt – today's announcement sends an important signal about this Government's commitment to global action to support communities to build a safe and fair future," Climate Change Minister James Shaw said.
"International negotiations have in the past struck difficulties regarding calls for climate finance to deal with loss and damage, as some countries are concerned over what it means for liability and compensation. We are now amongst just a handful of countries to commit to this dedicated funding.
"COP27 is likely to discuss a centralised fund for international commitments for loss and damage. While New Zealand is not opposed to this, we also support a wide range of funding arrangements to make best use of our contribution. We will work with our partners, in particular Pacific governments, to support areas they identify as priorities," Mahuta said.
The Pacific Conference of Churches has called for less talk and more action supporting the resilience of Pacific communities affected by climate change at Cop27.
Its general secretary, Reverend James Bhagwan, said they see the needs of their communities struggling to be resilient.
He said the communities have the indigenous knowledge and understand their context and they are willing to do what it takes to adapt.
But he said they need help and they need it now, not when polluting countries finally feel charitable.
SOURCE: PACNEWS/RNZ PACIFIC