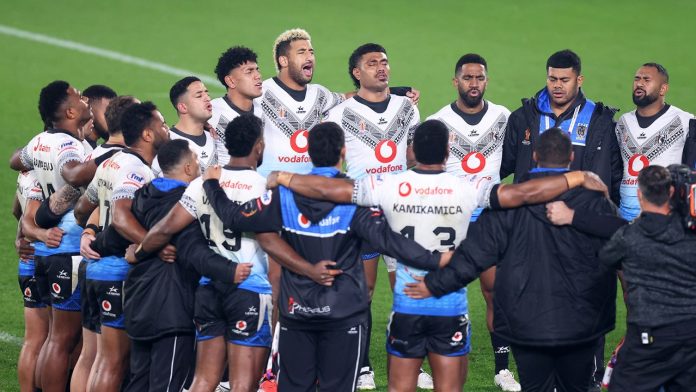 Fiji coach Joe Rabele believes the young talent unearthed during the World Cup will ensure the Bati remain a force in France in 2025 after being released from hospital in time to witness his team's brave 24-18 loss to New Zealand in Hull.
Rabele, who had a toe amputated after suffering an infection in his foot, was on hand to help inspire a Fiji performance that left many wondering how the Pacific nation would have performed if all their best players had been available.
With former Bati international Wise Kativerata flying from Sydney at short notice to take charge of the team after Rabele was hospitalised before the World Cup started, Fiji appeared on the verge of repeating their 2017 elimination of the Kiwis when they led 18-6 in the second half.
After qualifying for the semi-finals of the previous three World Cups, there was disappointment that they had fallen short but Rabele said Fiji was rebuilding and the squad would benefit from the experience at France 2025.
"I am so proud of the boys, especially when we had to make so many changes in our team because all of our senior players pulled out at the last minute," Rabele said.
"We have a team who have put their hands up represent Fiji for these few games and it is really pleasing to see how they performed, especially Josh Wong and Vuate Karawalevu from the Sydney Roosters under 20s and Tevita Toloi from Newcastle Knights under 20s.
"There are some good prospects who we are looking to build for the 2025 World Cup, so it is a good platform. If you look at our age group for this squad it is 23 and below."
Korbin Sims, who answered an SOS call to play after initially advising Fiji officials that his body wouldn't cope with the rigours of a World Cup, has now retired, while captain Kevin Naiqama is unlikely to still be playing in 2025.
However, star forwards Viliame Kikau and Tui Kamikamica have taken on leadership roles within the Bati squad.
Rabele said he would like Kativerata to remain involved in some capacity and thanked Newcastle Knights-bound assistant coach Brian McDermott and James Webster for their contribution to Fiji's World Cup campaign after all three were called in at short notice.
He was unsure of his own future after fearing at one stage that he would need to have his leg amputated.
"I flew over here and I thought I had a blister on my foot but it got infected, and I had to lose my little toe," Rabele said. "They had to take it off just to save my whole leg.
"I spent nearly three weeks in hospital and they gave me the okay on Thursday to fly home so I can continue the treatment in Fiji.
"I was so blessed that Wise answered the call and flew over to be the interim coach and I am grateful to all the coaches who have been involved in this campaign, especially the coaching staff here in England, Brian McDermott and James Webster.".
SOURCE: NRL/PACNEWS