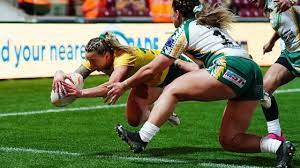 Sam Bremner scored four tries in her return to international rugby league, helping the Jillaroos to a 74-0 win against a gusty Cook Islands in their opening pool match.
Evania Pelite also crossed for a hat-trick in her debut for Australia, while Tarryn Aiken was also a multiple try-scorer in her first match for the Jillaroos with a double.
Bremner, who is one of the three captains appointed by coach Brad Donald for the Jillaroos in this year's Rugby League World Cup campaign, hadn't taken to the field for Australia since 2016, but was in fine form, claiming player of the match honours.
While it was a big win to Australia, they didn't have everything their own way with the Cook Islands putting in some strong defensive hits, forcing the Jillaroos into making more errors than expected.
The Jillaroos went into the game without a warm-up match, opting instead for an intense training camp before leaving Australia for the UK, but in the end it didn't adversely affect the reigning champions who went into the halftime break leading 36-0. Overall, Australia made a statement to the tournament with a big win which saw the side make 2000 metres, in contrast to 690 for Cook Islands.
2The girls were fantastic, I think it just shows how much that they were looking forward to playing tonight. All credit to the Cooks, they kept showing up, (but) our girls were just on their game tonight. We've got a little bit of work to do, but really, really good. We have a fair few players who will get a run in four days' time and are looking forward to getting on the field as well," said Brad Donald, Jillaroos coach
"There is nothing better than playing in this jersey, I was so proud of every girl that pulled the jersey on tonight, especially our debutants tonight. Unbelievable start, we wanted to come out here and we have high expectations and I thought we stuck to them. There's a few little errors there, but we can work on them,2 said Ali Brigginshaw, Jillaroos co-captain
The Jillaroos will next face France on Monday morning (AEDT), while Cook Islands will play New Zealand in their Round 2 match, with both games being played at York.
SOURCE: NRL/PACNEWS