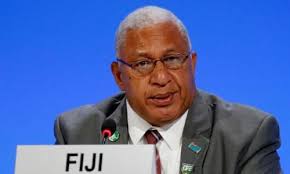 From wave power to coast-protecting mangroves, ocean investments can have a big payoff
By Frank Bainimarama Prime Minister of Fiji and a member of the High Level Panel for a Sustainable Ocean Economy.
Five years ago, as President of COP23, I called for a global coalition to address the greatest challenge humanity has ever faced: climate change.
In the years since, world leaders have taken positive steps towards reducing emissions and setting net zero goals in line with the Paris Agreement. However, the science is clear: global efforts to limit climate change are not happening nearly fast enough.
And for countries like Fiji, we are already facing devastating impacts from higher sea levels, stronger heatwaves, and more extreme cyclones.
Countries should be using every tool available to fight climate change, yet many are missing out on a major one: the ocean. Fijians understand that ocean action is climate action. But the ocean has too often been an afterthought at major climate summits.
As we approach this year's UN climate summit in Egypt, COP27, countries should make the ocean central to their climate plans.
The ocean plays a vital role in moderating global temperatures, having absorbed 90 percent of excess heat from emissions caused by human activity as well as 25 percent of our CO2 emissions.
And research shows that ocean-based climate actions, such as renewable energy, protecting and restoring coastal ecosystems, decarbonising ocean industries, and securing sustainable food from the sea, can deliver nearly a quarter of the total annual greenhouse gas emissions cuts needed to limit global temperature rise to 1.5 degrees by 2050.
Moreover, ocean solutions are a smart investment for countries. We know that investments in ocean-based climate actions can yield economic returns that are at least five times the value of the original investment over the next 30 years. Investing in habitats like mangroves and reefs can provide annual storm and flood protection benefits exceeding US$65 billion for mangroves and US$4 billion for reefs.
As a member of the High Level Panel for a Sustainable Ocean Economy, I'm proud that Fiji is part of a group of countries delivering on ocean-based climate solutions. We need every nation to match this ambition and to seize this opportunity by investing in a healthy ocean.
We know that when we restore, protect and sustainably manage ecosystems like mangroves, seagrasses, saltmarshes, reefs and microalgae, we enhance their ability to sequester and store carbon. They also help build coastal communities' resilience against extreme weather events by reducing wave heights and alleviating flooding.
On our own shores in Fiji we've implemented initiatives like our Mangrove Ecosystems Policy that will better protect mangrove forests, restore degraded ones, and halt further losses. We have incorporated these "blue carbon" initiatives into our climate action plan and long-term strategy to achieve net zero emissions. Other nations should do the same.
Our fellow countries should also work to decarbonise ocean industries such as fisheries, aquaculture, tourism as well as shipping and marine transport. Doing so can protect the ocean and climate, while providing economic benefits and creating jobs to support this necessary transition.
Fiji, together with four other Pacific nations, is committed to reducing domestic shipping emissions by 40 percent by 2030 and fully decarbonising the sector by 2050 through the Pacific Blue Shipping Partnership.
Ocean-based renewable energy is another solution that is not being implemented fast enough. Offshore wind, solar and other energy sources such as wave and tidal power must replace the burning of fossil fuels on land which sits at the root cause of this crisis. If countries work together, we can ensure that activities on both land and in the ocean reach net zero emissions by 2050.
Yet for many developing countries and small island states like Fiji, we simply cannot reach net zero emissions without wealthy countries delivering climate finance to support us. Nor can we implement the climate adaptation measures needed.
The ocean Sustainable Development Goal (SDG) remains the most underfunded of all the SDGs, and as a result, countries are missing the opportunity to take full advantage of the tools the ocean provides. Wealthy countries have both a moral responsibility and self-interest to support vulnerable countries in advancing ocean-based climate actions.
We face two possible futures: One in which our ocean becomes a significant solution to the climate crisis, and the other in which it is degraded beyond recognition. If we don't act urgently for the former, the latter is inevitable.
There is still hope to halt this existential crisis. Now is the time for all countries to place the ocean at the heart of climate action, ensuring an equitable and prosperous future for the whole blue planet.
SOURCE: CONTEXT/PACNEWS