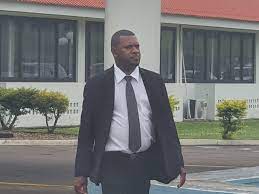 Vanuatu's Supreme Court has listed the trial of the election petition against the National United Party's (NUP) winning candidate in the constituency of Malekula, Sanick Asang, for 17 November 2022.
The date was set on Monday during a conference in Chambers before Justice Oliver Saksak.
The petitioners are Gregoire Nimbtik and Fabian Gary Hanhabat Vinbel. The duo had also contested the snap election on Malekula under Vanua'aku Pati (VP) but failed to secure one of the seven seats in that constituency.
Nimbtik secured 684 votes and Vinbel had 691 votes.
Asang is the first respondent in the election petition, the second is the Principal Electoral Officer (PEO), the Electoral Commission is the third and the Commissioner of Police as the fourth respondent.
This is the first petition to reach the office of the Supreme Court after the snap election on 13 October 2022. The Electoral Commission was not in a position to confirm how many other petitions have been received.
Asang had been declared eligible and contested the election despite still serving a suspended sentence, which is contrary to Section 24 (1, b) of the "Representation of the People Act [CAP 146]" on Eligibility of candidates. His suspended sentence was confirmed by the Director of Correctional Services, Johnny Marango, last week.
On Monday Daily Post witnessed another unsuccessful VP candidate in the Ambae constituency, Howard Aru, with his legal counsel at the office of the Supreme Court. Aru told Daily Post that he is seeking the court's assistance for a recount of the results on Ambae.
Aru was the runner-up with 501 votes to NUP's winning candidate, Still John Tari Qetu with 521 votes – a difference of 20 votes. There are three seats in the Ambae constituency.
It appears that VP has embarked on a legal battle with NUP, using the election petitions. NUP's caretaker Minister of Health, Bruno Leingkone, was in the former coalition government led by now caretaker Prime Minster Bob Loughman, but he had signed the pact to form the next Government at the Aquana camp.
VP President Loughman had transferred all functions under the Union of Moderate Parties (UMP) President and caretaker Deputy Prime Minister, Ishmael Kalsakau, as Minister responsible for the Ministry of Internal Affairs portfolio, to the PM's portfolio last Friday.
However, a reliable source at the Aquana camp said VP's actions will not affect their numbers.
"It is too late. The government is already set up and we will elect a new Prime Minister on Friday this week," the source said.
Until today, the 52 winning candidates are elected representatives. They will officially become Members of Parliament after taking their oaths on Friday this week.
SOURCE: VANUATU DAILY POST/PACNEWS