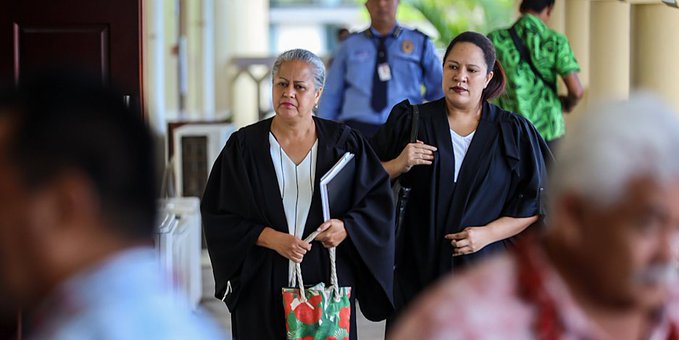 Samoa Supreme Court will hear an eleventh hour application from the Attorney General to discontinue the challenge from Faatuatua ile Atua Samoa ua Tasi (FAST) party to issue orders on the interpretation of the Constitution.
Attorney General, Savalenoa Mareva Betham-Annandale said the application follows a writ from the Head of State for a fresh General Election declaring April's results void.
Savalenoa said the continuation will be an academic exercise when the warrant challenged by FAST no longer exists.
Lead counsel for FAST Mauga Precious Chang opposed the motion indicating the party's intention to challenge the lawfulness of the Head of States declaration.
She submitted that she disagreed with Savalenoa saying that the activation of Article 44 is still relevant to the fresh election and the need for Court to interpret it.
The Justice of the Court adjourned the matter to Friday for the bench to hear the application by the AG.
The Court also expressed its disappointment in the Office of the Attorney General's disregard of orders from the Court to file submissions on the additional member seat proceeding this week. The AG did not file submissions for the challenge from FAST party that was scheduled for hearing today.
Justice Niava Mata Tuatagaloa said it was unbefitting of the Attorney General in failing to seek the approval of the Court for an extension to file their application.
Justice Tuatagaloa said the AG should uphold the highest standard of professionalism that they plainly disregard.
SOURCE: SAMOA OBSERVER/PACNEWS