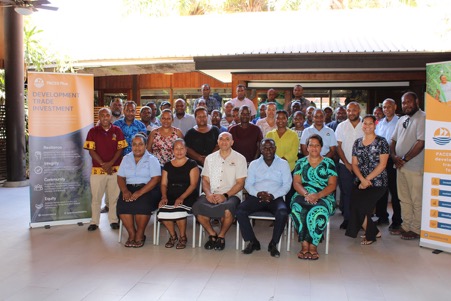 The importance of PACER plus as a catalyst for trade, investment and economic development in the Solomon Islands was highlighted in a dialogue currently underway in Honiara.
The two-days national dialogue which started on Tuesday 25 October focuses on trade in goods and trade in services as part of the PACER plus implementation process in the country.
The dialogue was held in the presence of the office of the PACER Plus Implementation Unit (PPIU) based in Apia, Samoa, senior government representatives and members of the private sector.
Trade Commissioner in the Ministry of Foreign Affairs and External Trade, Barret Salato spoke highly of the agreement adding that it is the most complete trade and economic cooperation ever to be signed by the country with two advanced economies in the region, namely Australia and New Zealand.
Also, under this agreement, Solomon Islands has opened up several different sectors in its economy that encourages investment development.
These sectors are: business services including professional services, computer and related services, research and development, communication, construction and engineering, distribution, education, environmental services, certain financial services, tourism travel services, transport; maritime auxiliary, air transport and services auxiliary.
On trade in goods, Salato said Solomon Islands will start to reduce its tariff 10 years after the entry into force of the agreement.
"Those tariffs reduction is gradual and will be eliminated to zero percent over 20 to 35 years' timeframe.
"This is a large timeframe that Solomon Islands needs to build and expand its industry base in order to recoup the revenue loss that will be resulted of tariff elimination," he added.
In its implementation of the PACER plus agreement, the PPIU is vested with AUD$25 million (US$16 million) over the next five years, thanks to funding support by Australia and New Zealand.
Implementation will be based on the obligations of each party under the provisions of the agreement- there are 14 chapters in the agreement.
Salato said each of the parties have identified areas needing resources to address in order to implement those provisions, which are based on each of the party's needs assessment report and work programme.
He states that through careful consultations with national stakeholders, they have identified areas, not only where we need to meet our obligations, but also to take advantage of the market access offered under PACER plus.
These areas range from customs procedures and upgrading of tariff nomenclature, implementation of the investment provisions, assistance for ePhyto-training and SPS related requirements, enhancing transparency measures through availability of trade information and strengthening qualifications recognition architecture.
Salato further emphasised that PACER plus work programme is a living document and can be reviewed, enhanced and changed to meet the needs of each party.
"If fully utilised, PACER plus can transform the trade and economic development landscape in the Pacific Islands Countries, that benefits all," he mentioned.
The first dialogue on Tuesday focused on trade in goods while a second session on Wednesday 26 October focus on trade in services.
SOURCE: SBM MAGAZINE ONLINE/PACNEWS