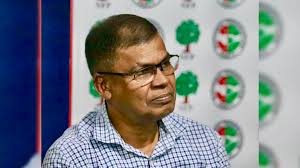 Fiji's Opposition National Federation Party (NFP) leader Professor Biman Prasad has been charged with two counts of indecently insulting or annoying a person.
Police Commissioner Brigadier General Sitiveni Qiliho said Prof Prasad was questioned at the CID Headquarters in Toorak Wednesday and chose to remain silent.
"He was subsequently charged," the Police Commissioner said.
Prof Prasad is charged under Section 213 (1) (a) of the Crimes Act 2009.
He was alleged to have hugged and kissed the cheek of Ari Taniguchi — the wife of former NFP provisional candidate Hiroshi Taniguchi — on two separate occasions in July and August of this year at the National Federation Party office in Suva.
NFP general secretary Seni Nabou said all the party could do at present was acknowledge the charges laid against the NFP leader.
"We are limited by law on what further information we can provide to the public at this point," Nabou said.
Prof Prasad has been bailed and will front court on 15 November, 2022….
SOURCE: FIJI TIMES/PACNEWS