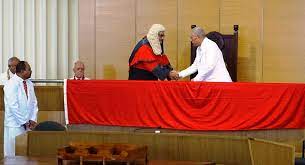 Tuimalealiifano Va'aletoa Sualauvi 11 was sworn in Tuesday by the Chief Justice as the country's Head of State for the next five years.
Prior to the ceremony, he inspected the Police Guard of Honour on Parliament grounds before entering Parliament for the swearing in ceremony.
On 23 August 2022, Parliament re-appointed Tuimalealiifano for a second term after serving his five year term as Head of State under the previous Government.
The Deputy Archbishop Father Louis Anthony Mataia Europa led the prayer service before the Chief Justice Satiu Simativa Perese conducted the swearing-in ceremony.
After taking his Oath of Office in the Samoan and English languages, Tuimalealiifano then addressed Parliament and country.
He acknowledged the Prime Minister and the FAST Government's confidence in re-appointing him and he also acknowledged the Member of the Council of Deputes, Le Mamea Ropati Mualia for his support.
He said that he will do his best to serve the Government and people of Samoa through the high office of the Head of State.
Referring to the duties and responsibilities of the office as an "overload", he referred to the time of uncertainty during the political crisis after the 2021 general election and the impact on the country and the journey to where Samoa is at now.
"The appointment was a burden given the past incidents of the last five years since I took office, but became lighter as I gain confidence and faith in God, and fits in well with the theme of the country's 60th independent celebration to Sail with Faith," he said.
He then called on Samoa to stand together in the love of God and forgiveness, to develop the country, villages, and families and forgo any divisions….PACNEWS
SOURCE: TALAMUA ONLINE/PACNEWS