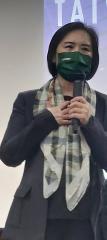 By Makereta Komai, PACNEWS Editor in Taipei
Taiwan ranks sixth out of 163 countries around the world in overall gender equality and the first in Asia.
And women, account for more than 42 percent of the nation's legislators, well above the world average.
"I very much look forward to the day when phrases like "female president" and "woman president" are things of the past. I am proud to say that Taiwan always stands at the forefront, spearheading efforts to promote gender equality and women's empowerment, said President Tsai Ing-wen.
According to statistics provided by the Inter-Parliamentary Union (IPU), more than 40 percent of the members of the country's 10th legislature are female – which represents 47 out of the 113 Members of Parlisment.
The Gender Equality Committee (GEC) said that Taiwan has the 16th highest percentage of female lawmakers in the world, and even surpasses Switzerland, which was ranked first in the latest gender equality assessment by the United Nations Development Programme (UNDP).
The Gender at a Glance report for Taiwan for 2022 says to encourage women's participation in politics, Taiwan's electoral system includes reserved seats for women.
"Taiwan's proportion of female legislators was 41.6 percent in 2020. Rwanda, Cuba, and United Arab Emirates had the highest proportion of female legislators, at over 50 percent each, according to the government report released in April this year.
Over the past decade, the percentage of women's participation in Government sector decision-making has increased, power and influence gap between men and women in national affairs has gradually narrowed.
One of the powerful women leaders in Taiwan and director general of the Department of Overall Planning, Connie Chang said to increase opportunities for women to participate in decision-making, the government sector continues to promote the one-third gender rule based on the principle of proportionality.
The proportion of women among cabinet members in 2020 (7.32 percent) fell considerably short of the one-third gender rule.
The Gender at a Glance report added that women also account for 40.4 percent of civil servants at the director level. As of May 2021, women accounted for 16.0 percent of second-level agency political deputy ministers, 23.1 percent of administrative deputy ministers, 37.9 percent of chiefs of staff, 34.1 percent of directors of first-level units, and 23.0 percent of chiefs of third-level agencies under the Executive Yuan (cabinet).
At home, progressive policy has been key to Taiwan's efforts to promote gender equality, said Chang.
"There is a provision in our labour law that recognises there is no discrimination between male and females in the workforce. It even protects women working late hours. Women in Taiwan enjoy the freedom to apply for jobs and be considered for positions including climbing up the corporate ladder based on merit.
"Among other measures, the Gender Equality Policy Guidelines issued in 2011 have helped drive progress across a wide range of sectors. In addition, we will soon finish a major comprehensive review of our laws and policies to bring them further in line with international standards on human rights and gender equality, said President Tsai.
President Tsai, who became the first woman President Taiwan, was elected in 2016 and promised to promote women empowerment in Taiwan and around globe.
SOURCE: PACNEWS