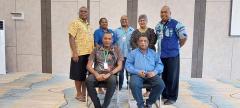 Pacific Islands News Association (PINA) president and CEO of Papua New Guinea's national broadcaster NBC Kora Nou, is in for his second term as the PINA president.
During its Annual General Meeting (AGM) in Honiara, Solomon Islands Kora was re-elected as President.
Robert Iroga, Publisher Solomon Islands Magazine was elected Vice President.
Also elected to the board are:
*Fred Wesley, Editor in Chief of Fiji Times – representing print industry
*Dominic Appi, Manager Nauru TV- representing television industry
*Katalina Tohi, General Manager of Broadcom Broadcasting Limited – representing radio industry
*Georgina Kekea, President of Media Association of Solomon Islands (MASI) – representing national media bodies.
*Iliesa Tora, Publisher Nuku'alofa Times – representing online media.
They will serve a two year term from 2022 – 2024
SOURCE: PACNEWS/PACNEWS