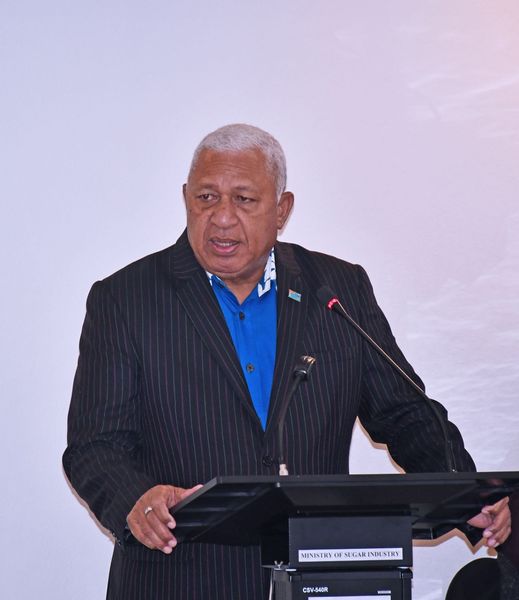 -Climate crisis is fundamentally a health crisis.
Prime Minister Josaia Voreqe Bainimarama made these bold remarks while delivering his statement at the Sustainable Surgical Systems and Planetary Health event at the Harvard Club in New York Thursday.
He was addressing health sector stakeholders across the global surgery and planetary health communities who convened on the margins of the 77th Session of the United Nations General Assembly to discuss the challenges in extending surgical care globally in support of the global SDG goal of health for all.
"Fijians know from the devastation we've endured that the climate crisis is a health crisis. Stronger storms can kill, heavier floods cut off access to health facilities, droughts can starve crops, and the rising seas can swallow entire communities and ruin arable land, seriously threatening food security and general nutrition," he said.
Prime Minister Bainimarama took the opportunity to share our disaster response efforts during the COVID-19 pandemic and the devastation caused by Cyclone Harold, adding it greatly assisted Fijians in rebuilding their lives.
"Just as we've had to climate-proof our hospitals and health centres, climate resilience sits at the centre of our health policy. With like-minded surgical specialists from our partner countries, Fiji launched the 'Suva Evidence-Based Surgical, Obstetric, Trauma and Anaesthesia Care in Low and Middle Income Countries (LMICs) on the margins of the World Health Assembly this past May," he added.
"Its 11 best practice strategies were developed through a review of 40,000 literature and surgery cases in low and middle-income countries and its aim is to save lives through more universal access to surgery and other advanced medical treatments, a mission that Fijian doctors and nurses live and breathe."
With healthcare offered for free in Fiji, the Head of the Fijian Government highlighted some of our key commitments to our healthcare system.
"Our network of healthcare extends to some of the most remote rural and maritime regions of the country and we have developed a medical assistance team known as FEMAT, the Fiji Emergency Medical Assistance Team, that provides medical treatment, including surgeries, onboard a ship called the MV Veivueti, a word in our iTaukei language that means to help someone in a time of need," the Prime Minister said.
The ship makes regular stopovers in maritime communities to perform surgeries as well as provide paediatric, obstetric, and other specialist services.
In some cyclone seasons, it has been deployed almost continuously to the front line to offer life-saving medical care.
Additionally, the Prime Minister said that the newly-upgraded hospital in Fiji's Western Division will make cardiac surgeries available in Fiji 24/7 for the first time in history, thanks to a partnership with the Australian healthcare company Aspen Medical.
Students wishing to pursue medical studies also have the opportunity to apply for scholarships and loans made available by the Fijian Government.
While speaking on behalf of Fiji and every small island developing state, Prime Minister Bainimarama also echoed the call of the World Health Organisation to support our nations in overcoming our challenges of scale, geography, and increasing vulnerability to climate change.
The event which is co-hosted by Harvard Global Surgery and Smile Train also aims to promote, among other important things, investment in the sustainable scale-up of surgical and anaesthesia care globally.
It also offers an opportunity to make dramatic advances in population health, promote pandemic preparedness and system resilience, foster economic growth, and position health systems in low- and middle-income countries to be leaders in addressing the climate crisis.
SOURCE: FIJI GOVT/PACNEWS