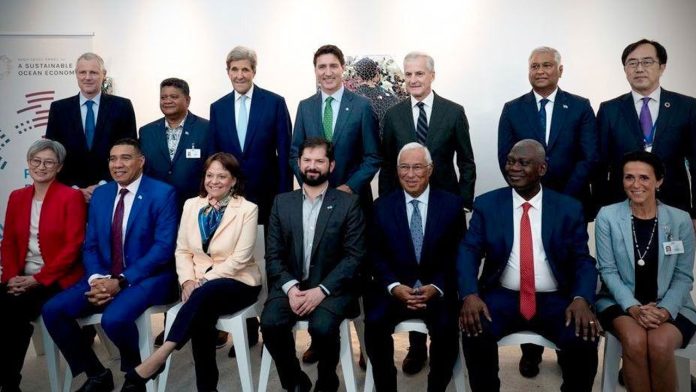 Fiji is calling on larger and wealthier ocean panel member countries to lead by driving investments in the global ocean economy through cutting edge partnerships; innovations in attracting private sector investments into the blue economy and supporting countries to overcome the constraints that they face.
While speaking on behalf of the Prime Minister and Chair of the Pacific Islands Forum at the High Level Panel for a Sustainable Ocean Economy side-event this week, Fiji's Permanent Representative to the United Nations, Ambassador Satyendra Prasad highlighted that we are building a highly sustainable blue economy with every dollar we can muster.
For large ocean states such as Fiji and those in the Pacific, blue finance is development finance.
"The most important step panel members can take is to build a solid policy foundation for greater ocean-based investments," he said.
Fiji's Ambassador to the UN told the High Level Panel that Fiji's National Ocean Policy which codifies much of the Panel's Sustainable Ocean Plan, and sets out our commitment to sustainably manage our 1.3 million square kilometres of ocean by 2030, with 30 percent declared as Marine Protected Areas, and our pledge to protect the seabed from destructive mining, provides an important framework for policy stability and certainty.
This is very important to draw private sector investments into Fiji's sustainable blue economy. These commitments are additionally locked in Fiji's Climate Change Act.
Based on these strong policy foundations, Fiji has the confidence to project and the actions it will take will lead to 100,000 skilled, professional and decent ocean based jobs by 2050.
Ambassador Prasad informed the panel members that Fiji will begin its "transition to green shipping, to massively ramp up sustainable aquaculture; enhance food security of coastal communities, protect and restore coral reefs and place Fiji among the world's most environmentally conscious tourism destinations. Fiji is committed to building back bluer and better".
He further highlighted that every ocean-based job we create in Fiji deepens our sustainability.
"Every new ocean-based business enhances our economic resilience and every patch of the Pacific we protect delivers dividends in the form of clean air and a stable climate for every person on earth," he said.
Ambassador Prasad urged larger partners in the Panel such as Canada, UK and France to "work with us to incentivise the private sectors, superannuation funds, and other financial institutions to place their investments behind ocean solutions and this is possible and Fiji is in some ways already leading the way."
Fiji will continue to pursue every possible avenue to unlock what finance exists.
Ambassador Prasad said that Fiji was among the four countries selected to receive seed funding through the UN's SDG Fund, which combined with GCF funding has the potential to catalyse over US$50 million of private, philanthropic investments.
Those resources will catalyse a 10-year blended finance window to invest in ridge-to-reef projects. Dozens of that communities will benefit from this. Our ecosystems on which they depend will be restored.
"Our future must be green as it is blue. Fiji's economy depends on it, our ecosystems depend on it, the Fijian people depend on it and the same goes for every person on the planet," Ambassador Prasad concluded.
Meanwhile, the Ocean Panel has also published its first-ever progress report, tracking how commitments are being turned into action across the world.
Fiji's Prime Minister is one of the founding members of the High Level Panel for a Sustainable Ocean Economy.
The meeting was chaired by Prime Minister Justin Trudeau of Canada and Prime Minister Jonas Store of Norway and attended by Australia's Foreign Minister Penny Wong, Prime Ministers of Portugal, Jamaica, and President of Chile, among other leaders.
SOURCE: FIJI GOVT/PACNEWS