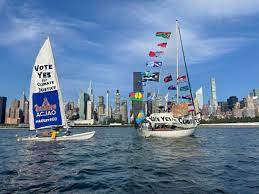 By Sanjeshni Kumar
Pacific youths have amplified their efforts to save their island homes and are calling on the world's biggest emitters to commit to meaningful climate actions.
This as greenhouse gas emissions increase annually while those responsible for burning most fossil fuels do not experience the most direct consequences of climate change.
Pacific Islands Students Fighting Climate Change (PISFCC) Campaigner, Vishal Prasad stressed that it is those that live in the Pacific that deal with the consequences of climate change.
"Hundreds of millions of people in vulnerable countries such as ours are having their people's livelihoods, health, food, water, and cultures severely impacted," said Prasad.
"For years we have known the reality of climate change, seen the impacts it brings and have known the necessary steps we need to take to avoid the path of catastrophe.
"But as simple as it may sound, we all know global action has been significantly lacking, and our futures are severely under jeopardy.
"Climate change is causing human rights crisis."
PISFCC was established almost three years ago by 27 students who were determined to transform the way world tackles climate change.
One of their campaigns is to ask the International Court of Justice to provide an "advisory opinion to clarify the obligations of states to protect the rights of current and future generations from the adverse effects of climate change and seek to advance principles of climate justice, intergenerational equity, and human rights".
Environmental students at the University of the South Pacific (USP) have written letters to Pacific leaders requesting their support for this initiative to take climate change and human rights to the world's highest court.
Vanuatu has supported this initiative publicly announcing in September last year of its intention to seek an advisory opinion from the ICJ, which was also part of the agenda of the 77th United Nations General Assembly (UNGA 77) in New York.
However, to achieve an ICJ advisory opinion on climate change requires a majority vote in favor of a resolution.
To strengthen the voices of vulnerable countries, PISFCC sailed on a 'vaka' (a traditional canoe) with First Nations people and climate activists down the New York East River calling on global leaders to vote yes for climate justice on the UNGA 77 resolution for an ICJ advisory opinion.
"This is the heart of the CSO campaign in calling for the ICJ to clarify what state obligations are in protecting these threatened rights, and what civil society and youth would like to see in the legal question that will be voted upon later this year," Prasad said.
"We hope to see the advisory opinion respond to the 'lack' by catalyzing greater action to break the deadlock that we face year in and year out and help strengthen the Paris agreement to become the robust agreement.
"It can be the necessary legal solution and support."
While the Paris Agreement sets out a global goal to strengthen resilience, enhance adaptive capacity and reduce vulnerability to climate change in the context of the temperature, Prasad says that by "possessing a human rights lens to address climate change, we are putting lived realities at the centre of our responses."
"Human rights obligations also provide the legal basis to compel stronger and more climate action by governments.
"They highlight the moral high ground we stand on and it is a forward-looking approach that focuses on the future and avoids naming and shaming and therefore is more likely to gather support and have more potential due to being in alienable," Prasad added.
"We are not just fighting for the rights of people now, but for those who come after us in a bid to ensure that this planet remains habitable, and a kind home for many to come after us.
"Not only would the ICJ be an illegal circuit breaker for global negotiations, but it would also be a major confidence booster for the work of activists all over the world."
He believes that as climate change is a whole of society issue, as a result, there must be a whole of society response to it.
SOURCE: PASIFIKA ENVIRO NEWS/PACNEWS