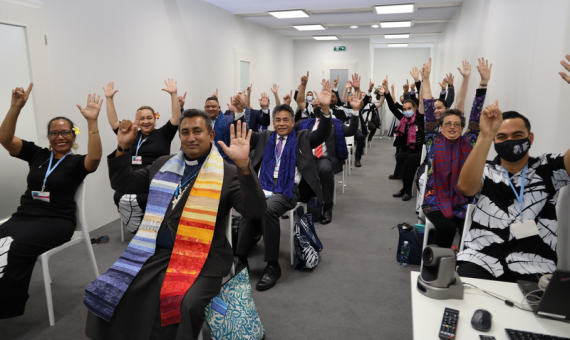 The Secretariat of the Pacific Regional Environment Programme (SPREP) has signed a Grant Funding Arrangement with the New Zealand Ministry of Foreign Affairs and Trade to support the Pacific to amplify its voice at the 27th Session of the Conference of the Parties to the United Nations Framework Convention on Climate Change (COP27).
The agreement valued at NZD$ 1.38 million (US$822,000) is to support the Pacific Island Developing States (PSIDS) to have a strong voice and an even stronger presence to drive ambitious climate action in Sharm-el Sheik, Egypt from 07 to 18 November 2022.
The funding also aims to help Pacific countries engage a global audience in sharing experiences about the impact of climate change on Pacific communities.
The climate crisis remains the single greatest existential threat facing the Blue Pacific.
The lived reality in the Pacific is supported by the world's leading scientific authority on climate change, the Intergovernmental Panel on Climate Change (IPCC) which has warned that around half of the world's population is 'highly vulnerable' to the impacts of climate change, with those in highly vulnerable regions already 15 times more likely to die due to floods, droughts and storms.
Pacific leaders have recognised the urgent need to respond and have declared that the region is facing a climate emergency.
SPREP's Director General, Sefanaia Nawadra thanked New Zealand for its continuous support not just for COP, but also for the work of SPREP to build a more resilient Pacific.
"As we prepare for Egypt, our mission remains unchanged – to achieve net zero carbon emissions by 2050 and a 1.5 Degrees Celsius world. We need to ensure, that all Parties, in particular developed countries meet their obligations under the Paris Agreement," said Nawadra.
"We will urge all parties to review NDCs to be more ambitious so we can collectively meet the 2050 net zero carbon targets. We must be vigilant to ensure pledges are translated into urgent, bold and tangible action."
SPREP has successfully led initiatives supported by New Zealand to amplify the Pacific voice since the 24th Conference of the Parties to the UN Framework Convention on Climate Change in 2018.
For COP27, SPREP with support from New Zealand is managing The Moana Blue Pacific Pavilion, The Pacific Delegation Office, Digital Communications Campaign, Creative Communications Campaign, and continue existing technical support arrangements for PSIDS, to deliver a strong Pacific voice on the global stage.
SOURCE: SPREP/PACNEWS