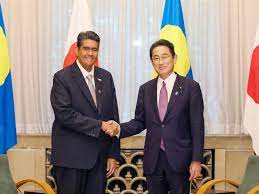 Japan and Taiwan's Pacific ally Palau on Friday underscored the importance of peace and stability in the Taiwan Strait while reaffirming their opposition to unilateral attempts to change the status quo in the Indo-Pacific region.
Japanese Prime Minister Kishida Fumio held a meeting in Tokyo with visiting Palauan President Surangel Whipps Jr on Friday, after which they issued a joint statement reaffirming their commitment to "realise a free and open Indo-Pacific."
In the joint statement, the leaders of the two countries "emphasised the importance of peace and stability across the Taiwan Strait" as well as the importance of maintaining freedom of navigation and overflight.
The two, without elaborating, expressed serious concern about the situation in the East and South China Seas, the statement said.
They went on to reiterate their strong opposition to "any unilateral attempts to change the status quo by force and increase tensions that could undermine regional stability and the rules-based international order," according to the statement.
All forms of military, economic and political coercion should be opposed and harmful disinformation countered, the statement said, adding that the two countries would closely coordinate with each other in dealing with economic coercion that aims to achieve "political ends."
While China is not specifically mentioned in the joint statement, Japanese media pointed out that the statement came at a time when Beijing has been trying to expand its influence over Pacific island nations.
The reports also mentioned that when Japanese Foreign Minister Yoshimasa Hayashi visited Palau in May, he said Beijing's security agreement with the Solomon Islands, which switched allegiance from Taiwan to China in 2019, could have a "significant impact" on the security of the Pacific.
The United States, Australia and New Zealand have also expressed similar concern over the security pact signed between China and the Solomon Islands in April.
According to the reports, Whipps was on a four-day visit to Japan starting Wednesday, his first Japan trip after taking office in January 2021.
SOURCE: CENTRAL NEWS AGENCY/PACNEWS