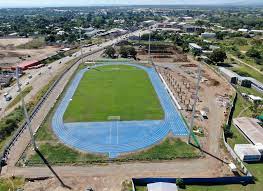 The Pacific Games Council (PGC) President, Vidhya Lakhan, and CEO Andrew Minogue have paid their first visit to Honiara since the Covid-19 pandemic to assess preparations for the 17th Pacific Games which will be held in the Solomon Islands from 19 November – 02 December 2023.
During their visit, the PGC delegation held meetings with the following stakeholders:
•The Prime Minister of the Solomon Islands, Manasseh Sogavare,
•The Chairman of the National Hosting Authority, Dr Jimmie Rodgers, and Executive Director Christian Nieng,
•The Solomon Islands Pacific Games Association (NOCSI) Executive Board, led by President Martin Rara,
•The Games Organising Committee CEO, Peter Stewart, and all the GOC staff,
In addition, the PGC delegation were able to visit all the Games venues and Athletes' Village sites as well as the Solomon Islands National Institute of Sports. The PGC delegation were also briefed on the upgrades to the Honiara airport terminal and the main road into the city, as well as the Honiara city beautification program to portray the city as a clean, safe and welcoming destination for athletes and visitors in 2023.
At the conclusion of the visit, the PGC delegation held a press conference with local media representatives.
President Lakhan said, "I am very happy with the state of preparations for the 2023 Pacific Games. Despite the setbacks caused by the Covid-19 pandemic, Solomon Islands' preparations to host the 2023 Pacific Games remain on track. The venues are taking good shape and we fully expect they will be completed several months before the Games are due to commence. I call upon the people of Honiara to step up their efforts to beautify the city in preparation for welcoming the delegations of athletes and officials and all Games visitors in 2023.
"The Games Organising Committee are well staffed and have been promised the resources needed to deliver a successful Games, and the Solomon Islands PGA are preparing their athletes well for the strong competition that lies ahead.
"The PGC thanks the Solomon Islands Government and their donor partners for their continued financial support for this nation building endeavor and historic opportunity for Solomon Islands. I look forward to returning to Honiara in November, at the one year to go mark, alongside the Chefs de Mission from the 24-participating nations, to see further signs of good progress," he said.
SOURCE: PACIFIC GAMES COUNCIL/PACNEWS