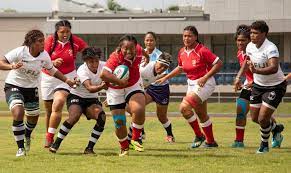 Oceania Rugby is excited to announce the world's first women's rugby Combine programme. It will accelerate rugby development for women in the Pacific and pave the way for the region's brightest rugby talent to join the Australian Buildcorp Super W competition.
The Oceania Rugby Women's Combine follows the successful World Rugby Men's Pacific Combine (launched in 2018). The Women's Combine has been made possible through Oceania Rugby's partnership with the Australian Government's PacificAus Sports programme, and Rugby Australia, and is supported by World Rugby.
The Combine is a targeted talent identification camp centered around the assessment of athlete performance and potential through specialised coaching, testing, education, and elite team preparation. Emerging Pacific Island talent will have access to some of the world's best rugby coaches, analysts and strength and conditioning experts, who will test and prepare players for entry into modern high performance women's rugby environments.
Cathy Wong, Oceania Rugby Women's Director, said: "Just as Fijiana Drua's inaugural participation and success in the Australian Super W competition in 2022 had a profound impact on women's rugby and on Fiji, this opportunity will be a game-changer for Pacific women from other nations, and further enhance the quality and interest in Super W.
"These major initiatives would not have been possible without the vision and commitment of the PacificAus Sports programme and Rugby Australia. And for that we are sincerely grateful."
World Rugby, Women's High Performance Manager Nicky Ponsford, said: "This high-performance training environment, and elite level competition will accelerate player development and strengthen women's rugby pathways, especially for island-based players. In turn, it will help drive the competitiveness of national teams like Samoa, Tonga and Papua New Guinea".
PacificAus Sports works to create greater engagement between Australia and the Pacific through our shared love of sport by developing pathways for Pacific teams and athletes to play in high-level Australian sporting competitions; for Australian sporting codes to increase their presence in the Pacific; and for emerging athletes to benefit from Australian training and competitions.
During the 2022 Oceania Rugby Women's Championship held 9-17 July in Auckland, New Zealand, a group of 20 players from the eligible participating unions of Samoa, Tonga and Papua New Guinea were selected based on their performance and potential. These players have been invited to attend the Women's Combine programme on 19-26 September on the Gold Coast, Australia.
During the Combine players will assessed and evaluated with the aim of potentially being selected to join one of the Australian Super W teams, to participate in the 2023 Buildcorp Super W season. Through the support of Rugby Australia, Australian Super W coaches will be invited to review the performance of Combine attendees.
Following the incredible success of Fijiana Drua joining Australia's premier women's competition 2022, also supported through PacificAus Sport, the addition of players from other Pacific nations in the 2023 season promises to continue to build and broaden the fan-base for women's rugby in the region.
Rugby Australia CEO Andy Marinos, said: "This Combine aligns perfectly with our strategic goals for the development of Rugby within the Pacific region.
"We have seen the positive impact that the Fijiana Drua have had in Super W this year – not to mention the many women with Pacific Island heritage throughout Rugby in Australia.
"I would like to thank Oceania Rugby and PacificAus Sports for their commitment to the advancement of Rugby – and especially women's Rugby – across the Pacific," he said..
SOURCE: OCEANIA RUGBY/PACNEWS