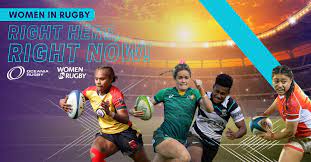 Women in all aspects of rugby union will be celebrated throughout the region again this September during Oceania Rugby's annual Women in Rugby Month.
Throughout the month of September, Oceania Rugby will be joined by its 17 Member Unions in celebrating women in rugby. The regionally lead initiative will highlight what is happening throughout Oceania and explore the significant advancements and achievements of women in the game. These developments have led to recent successes on the field throughout the region and the growth of domestic women's competitions and programmes.
Themed, 'Right Here, Right Now!', the month will showcase and celebrate the events and people driving female development in rugby throughout Oceania in the lead up to Rugby World Cup 2021 (playing in 2022). Players, coaches, match officials, administrations and fans alike have all contributed to the rising popularity and success of women's rugby globally. With the current Olympic, Commonwealth and Rugby World Cup champions the Oceania region has many stories to celebrate and histories to learn from.
Female participation is at an all-time high with girls and women making up more than a quarter of the global playing population. Captivating and enthralling women's Rugby Sevens at the recent 2022 Birmingham Commonwealth Games saw the Gold (Australia), Silver (Fiji) and Bronze (New Zealand) medals return to the Oceania region, only served to increase the public admiration and interest in Women's Rugby, encouraging a whole new generation to play the game.
Whilst the highs and lows of elite sport are on display for everyone to witness the never-ending work of community sport is vital to increasing participation, engagement and normalising girls and women in rugby. So, the September campaign will encourage everyone involved in women's rugby at all levels to highlight what is happening 'Right Here, Right Now!' near them.
Oceania Rugby Interim General Manager, Lemalu Wayne Schuster said that there is a lot of excitement around the third edition of the Oceania Rugby Women in Rugby month.
"Oceania Rugby together with our Member Unions and partners have been steadfast in changing attitudes, making rugby safe and accessible to girls and women, providing a complete competition pathway, balancing boards, accelerating the development of women, and growing female representation in all roles both on and off the field through competition reform and program development.
"The success of our focused Women in Rugby Month has resulted in changed attitudes and reimagined delivery methods throughout the region with increased participation in by girls in the grassroots Get into Rugby programme across the region, increased coaches engaged in women's rugby and an uptake in elite level women's competitions,2 said Schuster.
On the back of a regional whitewash of medals at Birmingham 2022 Australia, Fiji and New Zealand will carry the support of the region at two more global events this year with the Rugby World Cup Sevens being playing in South Africa on 9-11 September and the Rugby World Cup 2021 (playing in 2022) commencing on 8 October.
2Oceania Rugby has and continues to be committed to supporting women in rugby at all levels of the game through shared learning and collective successes. 'Women in Rugby… Right Here, Right Now!' aims to give everyone the opportunity to focus their efforts on these worthy objectives and continue to grow girls and women's rugby across the amazing region which is Oceania2 Schuster added.
Throughout September, Oceania Rugby will host three regional webinars that will address different Women in Rugby…Right Here, Right Now! themes. Each webinar features diverse and impressive women in rugby from countries across the region. The webinars are aimed at amplifying the voices of women in the game, showcasing the variety of ways women are involved in rugby, and inspiring everyone to take action to support women in rugby.
Wednesday 7 September: Challenging Inequality & Influencing Change: This engaging session is a brilliant kickstart to the month as participants will leave with the knowledge and tools to challenge inequality when they see and hear it. Participants are empowered to support women in rugby and uphold an inclusive rugby culture by learning methods to recognise and address the attitudes, beliefs, and behaviors that reinforce inequality.
Wednesday 14 September: Leadership On & Off the Field: While the number of female players is at an all-time high, women are still underrepresented in a range of leadership roles throughout the sport. This session features a panel of women who are using their roles in coaching, player development, and governance to lead the way for positive change. They'll give insight into their roles and challenges, their development as leaders, and how women can demonstrate leadership at any capacity.
Wednesday 28 September: Right Here, Right Now & Beyond: Join this session to hear from our powerhouse panel of female players and rugby professionals who will share the inside scoop of their rugby journeys, their visions for the future of the women's game, and how we all play a part in supporting and growing women in rugby.
National Unions within Oceania are joining the campaign in delivering local girls and women's focused clinics, festivals, education courses, and sharing stories of their local Women in Rugby champions.
Rugby devotees and those new to the game, are encouraged to take advantage of these and the Oceania Rugby led opportunities.
SOURCE: OCEANIA RUGBY/PACNEWS