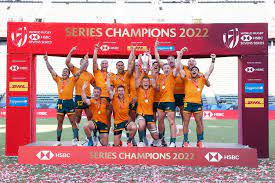 Australia won the men's HSBC World Rugby Sevens Series for the first time in history on Monday after an amazing day two of action in Los Angeles.
The 2022 series started way back in November last year and, after nine tournaments, it all came down to the bronze medal match at Dignity Health Sports Park in California, USA.
Going into that match Australia knew that if they could win it then they would have too big a points total for nearest rivals Fiji and South Africa and so it proved.
They beat Samoa 21-7 to clinch third over the weekend and, more importantly, the overall title.
An emotional Australia head coach John Manenti said: "It is quite surreal to be honest.
"It has been an amazing six months or so with the boys, we have had our ups and downs, but these kids have fought hard and they deserve this and it is something that they will remember for ever.
"We are a bunch of misfits just having a crack, working hard for each other and the boys love each other which is a big thing.
"This season we wanted to be consistent from day one and we didn't get there every tournament, but in general this overall victory is all about the consistency the boys have shown."
Before this, Australia had finished second in the men's series in 2000-01, but this time they made it to the top of the mountain and backed up their women's series win to show that they are the country to beat now when it comes to sevens.
Australia finished fourth at the Birmingham 2022 Commonwealth Games in July, losing to New Zealand in the bronze medal match, so they obviously channelled that frustration here.
And their head coach mentioned consistency, well they are the only team who reached the Cup quarter-finals at every round of the 2022 Series.
They are the fifth country ever to win the series after New Zealand, South Africa, Fiji and Samoa.
In all the excitement, Fiji and New Zealand then played out a brilliant gold medal match.
Before it, New Zealand had reached a Cup final on USA soil on eight occasions, but only lifted the trophy twice – in 2004-05 in Los Angeles and 2007-08 in San Diego.
Their record in Cup finals now is won 62, lost 39 after a late Moses Leo try – converted by Kurt Baker – helped the injury-hit squad see them win the game 28-21.
HSBC Player of the Final Leo said: "We had to dig deep, but the boys showed character and we did it."
In the final standings, Australia finish on 128 points, South Africa are on 124, Fiji are third on 122, Argentina are fourth on 118 and Ireland finish fifth on 92.
Gold medal match: Moses Leo the star man as New Zealand find gold
With these two great sides tied at 21-21 going into the final 60 seconds of a pulsating Cup final it was going to take something special to separate them – and Moses Leo came up with it.
His try, converted by Kurt Baker, saw them record a 28-21 triumph.
The result was tough for Fiji to take because they certainly played their part, their tries coming from Kaminieli Rasaku, Waisea Nacuqu and Filipe Sauturaga.
New Zealand captain Sione Molia said: "It was such a tough match and we knew we had to be real clinical and we were.
"We had a few guys nursing injuries, but we wanted to win for each other and our country."
Bronze medal match: Australia bounce back from early Samoa try
Knowing a win in this one would secure them the Series there was no doubt some nerves in the Australian squad before this game against Samoa.
And that only intensified when Owen Niue scored a converted try for the opponents after three minutes.
Australia stayed calm though and tries from Corey Toole, Henry Paterson and Dietrich Roache – all converted by the latter – got them home 21-7.
After the game which gave his side ultimate glory, captain Nick Malouf said: "I am just so proud, I look back to the start of this season and we had six guys contracted, it has been quite some journey since then.
"Before this game we spoke about making three groups of people proud. The first was Australians, the second was the name on our backs our families and the third was the group of guys. I hope we did that."
You certainly did Nick…
Cup semi-finals: Fiji turn on style as New Zealand edge through
Henry Paterson and James Turner scored first half unconverted tries for Australia, but in the end Fiji were too strong in the first Cup semi-final.
Waisea Nacuqu, Jerry Tuwai, Filipe Sauturaga, Joseva Talacolo and Kaminieli Rasaku scored their tries in a 29-10 victory.
Samoa led 19-7 at the break against New Zealand in the second semi, but the latter showed amazing battling spirit to come through 28-26.
Sione Molia scored their winning try with Kurt Baker converting to add to earlier scores from Akuila Rokolisoa (2) and Baker.
Steve Onosai, Vaa Apelu Maliko, Uaina Sione and Paul Scanlan were Samoa's try scorers in defeat.
Cup quarter-finals: Australia, Fiji, Samoa and New Zealand progress
Having been awesome on day one, early on day two Australia showed they were keen to continue where they left off.
Matthew Gonzalez, Maurice Longbottom, Henry Paterson (2), Josh Turner and Corey Toole scored their tries in a comfortable 40-14 Cup quarter-final triumph.
Fiji then got the better of hosts USA, Kaminieli Rasaku, Joseva Talacolo (2) and Viwa Naduvalo their try scorers in a 28-12 triumph although the biggest cheers came when Steve Tomasin and Maka Unufe crossed.
Paul Scanlan was the hero with the winning try as Samoa just got the better of Argentina 24-19 in one of the ties of the weekend.
Matías Osadczuk's try, converted by Alejo Lavayen, had made it 19-19 before Scanlan's intervention. Scanlan was later named DHL Impact Player of the weekend.
Joe Webber, Caleb Tangitau, Amanaki Nicole, Ngarohi McGarvey-Black and Lewis Ormond bagged tries for New Zealand as they were too strong for Ireland 29-14.
5th place: Argentina finish fifth and have heads held high
Along with Australia, Fiji and South Africa, Argentina were one of four sides going into this event who could have lifted the overall series title had things gone their way.
It was not to be in the end, but what entertainers they have been in recent months and they made sure of fifth place in Los Angeles by beating Kenya 29-7 in the fifth place final.
An Anthony Omondi converted try on the stroke of half-time saw Kenya cut the deficit to 12-7 at the break, but second period tries from Tomas Lizazu (2) and Franco Sabato – as well as two Tobias Wade conversions – got Argentina home 29-7.
Earlier in the first fifth place semi-final, Edmund Anya scored a converted try at the death as Kenya stunned the home support with a 21-14 victory over a USA outfit who certainly entertained over the two days.
In the second semi, Argentina had to battle back from 21-7 down against Ireland and there was similar late drama to the Kenya-USA tie.
Tomas Lizazu was the match winner here, his converted try getting Argentina through 28-21 after a cracking contest.
9th place: French flying in final
France had a mixed weekend overall, but in the 9th place final they turned on the style.
They scored just one try in the first half, but they scored four more after the interval to defeat Scotland 33-0.
Nisie Huyard, Aaron Grandidier, William Iraguha, Stephen Parez and Paulin Riva were thee French try scorers with four conversions being added as they ended on a high.
Earlier France had got the better of England 19-7 in the first 9th place semi-final, Jean Pascal Barraque, Nelson Epee and Pierre Mignot their scorers there.
And Scotland had made it to the final with a victory that had the same score against Wales.
Robbie Fergusson (2) and Harvey Elms were the Scotland try scorers in this one.
In the 9th place quarter-finals, England defeated Japan 36-15 with Tom Bowen leading the way with two tries and Nelson Epee was at the double in a 42-0 thumping of Canada.
Matt Davidson, Jamie Farndale, Robbie Fergusson and Harvey Elms scored converted tries as Scotland got the better of Spain 28-7 and Wales caused a shock to edge out South Africa 10-5.
Luke Treharne opened the scoring early on before Ryan Oosthuizen replied, but Morgan Williams won it for the Welsh.
13th place: South Africa finish 13th to fall short
If you had said to many people at the start of the weekend that series leading South Africa would be in the 13th place final then not a lot of them would have believed you.
However, as we know sevens throws up the most amazing things and that is what happened here.
In the final South Africa won 26-0 to, at the time, keep their overall series title hopes alive at the time, but in the end it was not enough.
In the final, Shilton van Wyk, James Murphy, JC Pretorius and Ryan Oosthuizen scored South Africa's tries with Branco du Preez (2) and Shaun Williams kicking conversions.
Earlier in the first 13th place final, Japan had come out of the blocks flying to defeat Canada 26-19.
Timo Fiti Sufia, Shotaro Tsuoka, Taichi Yoshizawa and Ryota Kano scored tries, three of them converted, as the Japanese team led 26-0 at one point before holding off a comeback.
In the other semi, Siviwe Soyizwapi and JC Pretorius tries had South Africa 10-7 up at the break over Spain and eventually they won 29-12.
Second half try scorers for South Africa were James Murphy, Angelo Davids and Muller du Plessis.
Rugby World Cup Sevens 2022
The World Rugby Sevens Series for 2022 may well be over now, but the best male and female sevens players on the planet will soon be at show in the Rugby World Cup Sevens.
The showpiece event takes place in Cape Town, South Africa, between September 9 and 11.
We cannot wait…
SOURCE: WORLD RUGBY/PACNEWS