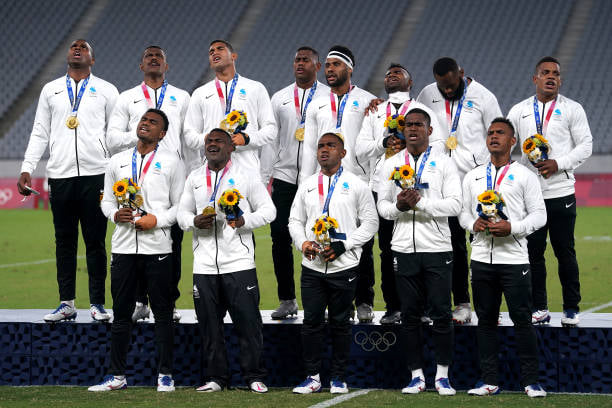 Fiji has dedicated its Olympic rugby sevens win to the people back home who are struggling amidst the country's Covid-19 health crisis.
Fiji defeated New Zealand 27-12 in the men's sevens final in Tokyo to defend the title they won in Rio five years ago.
Captain Jerry Tuwai said the win is very special for the team and all of Fiji.
"Everything that's been going on in Fiji and all the expectation – as the coach and myself know is that all Fijians want only the win," he said.
"So I think winning this gold medal will be a very very good day for Fiji today."
Tuwai was also a part of Fiji's gold medal winning team in 2016 but said this win holds extra meaning.
"I think it's more special because we've been away from our family for about five to six months so I this one is special."
Only the athletes receive Olympic medals and Fiji coach Gareth Baber revealed his captain actually tried to give him his newest prize.
"Jerry was trying to give me his medal," Baber laughed.
"I said 'I'm not going to be taking that off you' and he said 'no no I won one, you have this one'…because that's the man that he is. He would never take the credit for what he has done and he has achieved. It's a phenomenal feat to have done what he's done."
Baber said it had been a difficult year for the Fiji team and the country.
"We were locked down in Fiji, then we went to Australia where we were quarantined for a period of time and I've got to pay a special mention to the players and staff who have done this," he said.
"They came into a training camp on Easter Monday thinking they were going back on on Friday. On the Tuesday they were told they couldn't go back and they haven't seen their family since.
"I think what you saw out there over the last three days has been the resilience of the group dealing with whatever's been thrown our way."
Baber also paid tribute to the impact of newcomers Jiuta Wainiqolo, Sireli Maqala and Iosefo Masi, who only made their international debuts last month.
"This is their first international tournament they've ever played in apart from an Oceania tournament we played some three weeks back in Townsville," he said.
"To think that we've done that behind the closed doors of Fiji and it pays testament really to the quality of rugby that is played in Fiji, particularly the quality of sevens rugby…that's where the expectation comes from, because we know we've got super talent in Fiji."
Fiji Rugby chief executive John O'Connor said they were extremely proud of the players, who have sacrificed a lot on their Olympic journey.
"The boys have been together for the last several months from April, away from their families, and there is so much commitment they have given to this journey," he said.
"That made us confident and I know all of them proudly represented their families and the struggles of Covid-19 that we're going through and they were playing for their families and for Fiji."
Fiji recorded 1,057 new cases of Covid-19 in the 24 hours to 8am Wednesday.
There are now over 19-thousand (19,168) active cases in isolation, with 218 deaths – 216 of them from this latest outbreak that began in April.
The Fiji team had to separate from their families when the outbreak began and O'Connor said the plight of everyone back home has motivated the team in Tokyo.
"We had to get special permission for them to train in a bubble and I think they all understand the struggles that every Fijian is going through," he said.
"In their message this afternoon they said they were going to play for all the families who have lost loved ones and all the people who are going through Covid-19 – all the frontliners and every Fijian who has been through challenges during this time."
With Covid-19 restrictions in force, Fijians were unable to gather together to watch the gold medal match but it didn't stop the local from celebrating.
O'Connor watched the game at home in Suva and said he could hear drums and fireworks throughout the capital after the full-time whistle.
Five years ago thousands of fans lined the streets to welcome the Fiji team home from Rio, but O'Connor said things would have to be different this time around.
"I think the players understand that it's tough times," he said.
"We will see them come home and in the meantime we will have discussions with all the stakeholders and see how we can celebrate their victory."
The Fiji squad departs Tokyo on Thursday and will arrive home on Friday morning, before spending 14 days in quarantine.
One of New Zealand rugby seven's longest-serving players and former All Black Dallas Seymour told Morning Report the team played well during the Olympic campaign.
"They got tested a couple of times, but it set them up for the quarters, semis and final, particularly against Argentina and Australia.
"Everything was flying really well for them moving into the final, just that the final didn't quite go their way, unfortunately."
He said the New Zealand team did not execute as well as it could have.
"For me personally, having a Fiji-New Zealand final is probably one of the best finals you'll ever have in sevens rugby."
Seymour said there needed to be more opportunities for sevens tournaments locally.
"We do need to have … an edge on the rest of the world – a decent domestic sevens competition where our guys can be tested, they can pay a lot more sevens.
"But the difference like in Fiji, for instance, they're playing sevens tournaments all time, so you've always got sevens specialists," he said.
Meanwhile, fireworks lit up the sky in Fiji last night as the nation celebrated their Sevens team winning gold at the Tokyo Olympics.
Shortly after the Fiji men's sevens team secured the historic win, videos began circulating on social media showing colourful, socially distanced celebrations in backyards, and showing appreciation for the bangs and crackles of their neighbours fireworks displays.
Prime Minister Frank Bainimarama tweeted the "win was more than gold".
He congratulated the team, saying "your love for this game, for each other, and for your country has shown again that when Fijians unite, we can achieve greatness – no matter what the world throws our way."
Fiji is grappling with a worsening Covid-19 outbreak, with more than 19,000 positive people in isolation and over 200 deaths reported.
Despite having to stay apart, the country came together to celebrate – by singing, yelling, and banging pots and pans. Neighbours celebrated with one another – but from afar.
SOURCE: RNZ PACIFIC/PACNEWS