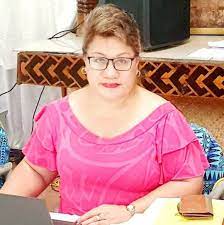 Samoa's first woman to be appointed the Minister of Finance, Mulipola Anarosa Ale-Molioo says the set ten percent quota for women representatives in parliament is discriminatory against women and more so against aspiring women politicians.
Mulipola stated that instituting the current 10 percent quota for women members in parliament is discriminatory especially against those women who battled and won their seats squarely against their male rivals in the general elections.
"With our current term in parliament, it's such a massive achievement for me as a female, to have to work alongside the first female Prime Minister of Samoa and it's a significant enrichment for my journey as well," she said.
"However, I did not make it this far through the ten percent quota as I fought my way through just like how male politicians did."
Other than Prime Minister Fiame Naomi Mataafa who was elected unopposed, Mulipola was among three women who won their seats at the polls beating off their male competitors.
"When you're in parliament, you are the voice of your constituency who voted you in hence why my perspective of the 10 percent is different; as it seems now it's belittling the status of us women but it is vital that women are such effective game changers in many communities," said Mulipola.
"So when it comes to parliament, why should men's involvement a different case from that of us women?" she asked.
Last week, the Supreme Court determined two additional women members be sworn in to makeup six women members in the 10 percent quota. A third woman was also confirmed to replace a woman who was elected during the general election but resigned when she faced with an election petition.
It now makes seven women in parliament and pushes the number of seats for the 51 electoral constituencies, to 54.
Mulipola also clarified that her previous comments on the court ruling to swear in the three additional women parliamentarians were wrongly perceived by many.
She congratulated the three additional women parliamentarians and given the developments following last April's general election on the 10 percent quota for women members, again strengthened the reasons why she opposes the quota.
Overall, Mulipola said in her observation as a Minister, the majority of the Chief Executive and top management positions in government ministries and private businesses are dominated by women.
"So standing here in my position as a female, I am very proud of those females who have made their way to the top," she said.
But she is of the view that Samoa should not have accepted the 10 percent quota and the method of selection as recommended by the United Nations.
"As Samoa is quite capable of making her own decisions," she stated.
Cabinet last month appointed a Commission of Inquiry to look into the Electoral Act and the issues that surfaced in the 2021 general elections and there have been suggestions to revisit the current 10 per cent women quota in parliament.
SOURCE: TALAMUA ONLINE/PACNEWS