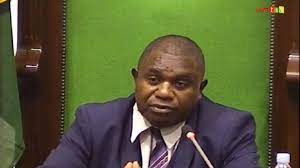 Vanuatu Speaker of Parliament, MP Simeon Seoule has stressed his status is neutral.
He made this statement following a call made by the government side for him to resign.
The Speaker's status was questioned after his involvement in a reconciliation ceremony made recently between him and another MP in the Opposition Camp.
MP Seoule conceded he was part of a reconciliation ceremony, but said that has "nothing to do with the motion".
Seoule also confirmed he did not sign the Motion of no confidence.
He explained that MP for Malekula, Gracia Shedrack, invited him to the reconciliation ceremony so they could reconcile and put their differences aside. These issues first emerged in June 2021 when MP Shedrack as Speaker declared the seats of the PM, Deputy PM and 17 other MPs vacant.
"I am neutral," the incumbent Speaker reiterated.
Seoule added that the motion was signed by MPs in front of the Clerk of Parliament. He summoned the parliament following advice from the Clerk.
He confirmed he was tasked to try and convince some MPs that are with the Opposition grouping to return to Government, but this was unsuccessful.
Meanwhile, Daily Post was informed that MP Shedrack and MP Robin Kapapa who are with the Opposition, met and had kava with the Prime Minister and Deputy Prime Minister Wednesday. Talks included how they could work together into the future.
In related news, PM Bob Loughman maintained that he will not resign, but will continue to work hard and exhaust all avenues to maintain political majority and stability.
On Sunday this week, the Government deposited its request for the dissolution of Parliament to the Head of State, arguing that a change in Government would be too costly to the state, especially when the country is just starting to recover from the huge negative impacts of COVID-19.
SOURCE: VANUATU DAILY POST/PACNEWS