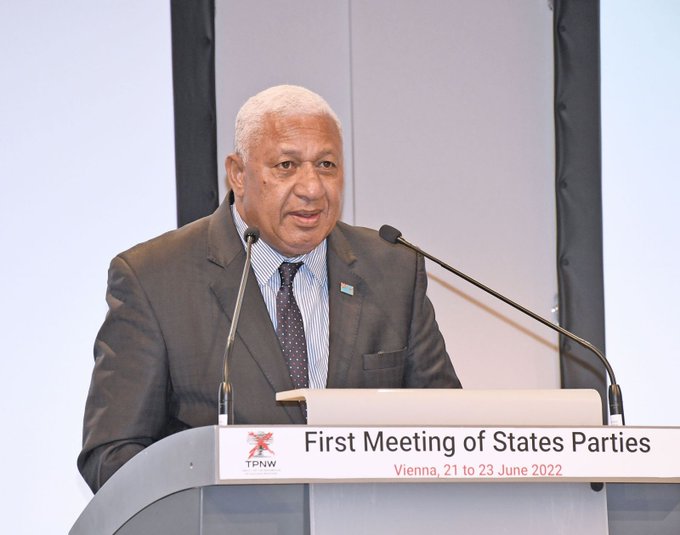 Fijian Prime Minister Voreqe Bainimarama has stated that Fiji will work with all states, large and small, to ensure a nuclear-free world and to heal the wounds of a dark nuclear legacy that continues to harm lives and communities throughout the region.
"Today, Fiji is proud to join over 86 states to adopt a treaty on the prohibition of nuclear weapons and take this first step back from the knife edge of Armageddon" said Bainimarama.
Prime Minister Bainimarama spoke on behalf of Fiji to fellow world leaders, activists, scientists, civil society reps, faith-based organisations, and journalists in his key-note address in Vienna, Austria, at a historic event in the field of nuclear disarmament, the First Meeting of the States Parties to the Treaty on the Prohibition of Nuclear Weapons.
Bainimarama said that per capita, Fiji contributes more of its sons and daughters to UN peacekeeping than any other country.
He said t nuclear weapons will never defeat enemies such as climate change and the COVID-19 pandemic.
Bainimarama said nuclear weapons are worsening the pandemic and the staggering expense cripples the response to other challenges.
"It is not idealism that convinced us, it is level-headed commonsense that caused Fiji to do away with this means of species extinction. Neither are we on the fringe of the debate. We are a coalition united by a shared value for human life. I welcome the NATO members who have joined us. This solution depends on your action and contribution."
Fiji has signed and ratified the Treaty on the Prohibition of Nuclear Weapons and endorses its full scope and ambition.
The Treaty prohibits nations from developing, testing, producing, manufacturing, transferring, possessing, stockpiling, using, or threatening to use nuclear weapons or allowing nuclear weapons to be stationed on their territory. It also prohibits them from assisting anyone to engage in any of these activities.
He also acknowledged all the leaders from across the Blue Pacific – current and past – who have worked tirelessly over the decades, hand in hand with our faith and civil society members to deliver this treaty.
Meanwhile, Fijian Prime Minister will attend the UN Oceans conference in Lisbon, Portugal next week.
"Fijians are ocean leaders. We have been ocean leaders from the day we conquered the seas to make these islands our home and we remain ocean leaders in our preparation to join ocean champs from around the world at the second UN Ocean Conference." said PM Bainimarama
Bainimarama, has served as an exceptional ocean leader as the President of COP23 and the co-chair of the inaugural UN Conference on Oceans.
He is a fierce advocate for the Blue Pacific and has always called for the Pacific and the world to unite in the fight to protect the ocean and its resources.
SOURCE: FIJI GOVT/FBC NEWS/PACNEWS