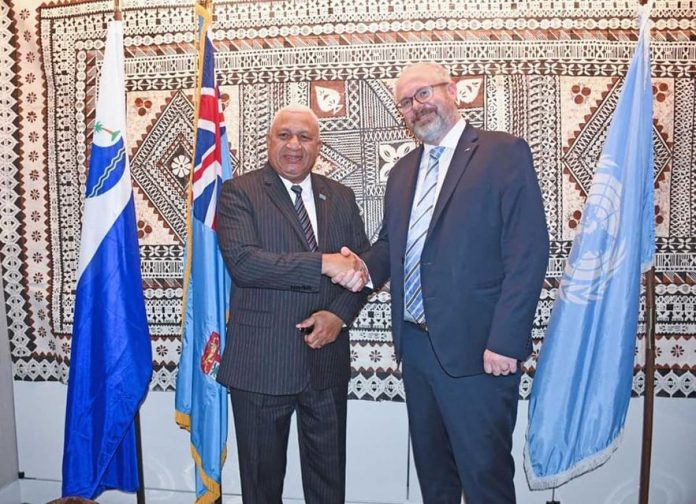 Peace is in our DNA as Pacific people.
Prime Minister Frank Bainimarama made this comment as he reassured the Pacific Vuvale of his duty, as Chair of the Pacific Islands Forum (PIF), to urge the international system to make irreversible progress in eliminating nuclear weapons.
The Prime Minister, while hosting the Pacific Community at the UN on the margins of the 10th Review Conference of the Parties to the Treaty on the Non-Proliferation of Nuclear Weapons in New York, said we are convening at a difficult time to discuss a way forward on the elimination of nuclear weapons.
"Peace is in our DNA as Pacific people and we make this stand because it is the only path to genuine peace," he said.
"At no time in recent history has the risk of nuclear accidents in a conventional war been as great as they are today. As I said earlier today, mutually assured destruction is no assurance of peace."
"It is only a strategy for avoiding a nuclear conflict by rendering it unwinnable and therefore unthinkable. The irony is that the world has not avoided war."
"Since the last atomic bomb dropped on Nagasaki in 1945, the world has been in a continuous state of war in one place or another."
Prime Minister Bainimarama said our presence here is also to tell islanders across the Pacific that their leaders will be relentless in seeking a nuclear weapons-free world.
"Our people's past is marred by suffering as a result of these weapons. Over 300 tests with a combined force equivalent to ten thousand Hiroshima bombs were inflicted on our region. Decades later, so many victims continue to suffer in silence, forgotten by big powers."
"We will never forget those who are alive and still suffering and those who have passed on."
At the same time, the Head of the Fijian Government thanked all the attendees and development partners for their support towards the Forum Leaders Meeting recently held in Fiji, adding that the Suva Declaration and the 2050 Blue Pacific strategy give our development partners a solid template from which to deepen partnerships with the Pacific region.
SOURCE: FIJI GOVT/PACNEWS