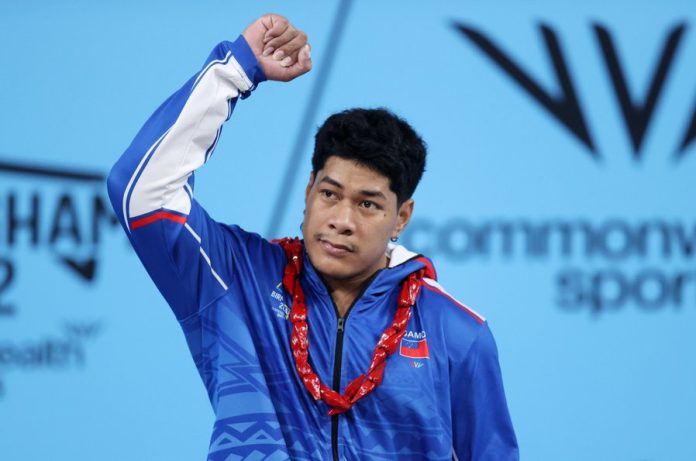 Samoa's Don Opeloge has become the third of his siblings to win a gold medal in weightlifting, triumphing in dominant fashion in the men's under-96 kilogram category at the Commonwealth Games here, setting new Games records in the process.
From the start, Opeloge laid down a statement of intent by cleanly lifting 161 kilograms in his opening round of the snatch to set a new Games record.
He continued to break his own best with efforts at 166kg and 171kg as he looked on course to better the silver medal won at Gold Coast 2018 in the under-85kg.
The best was left until last as Opeloge cleared 200kg and 210kg, before failing at 220kg in the clean and jerk, for a total of 381kg, another Games record.
His clearance at 210kg matched the best lift of any Commonwealth lifter at that weight.
It means he joins his brother Niusila and sister Ele as a champion at the Games.
Niusila Opeloge took gold at Delhi 2010, but did serve a doping ban for two years in 2007, while Ele Opeloge claimed victory in the women's over-75kg at the same Games.
Vikas Thakur of India took the silver medal with a snatch of 155kg and a clean and jerk of 191kg for 346kg, finishing just in front of Fiji's Taniela Tuisuva Rainibogi, the bronze medallist due to his second score.
England's Cyrille Tchatchet, who gained citizenship to compete after coming to the United Kingdom as a refugee, was a medal contender before being struck by injury in the clean and jerk.
Eileen Cikamatana claimed the women's under-87kg title for Australia, four years after winning gold for Fiji in the under-90kg.
She moved from Fiji following a governance dispute between two rivalling bodies in the sport.
Cikamatana set a Games record in the snatch of 110kg, followed by a new Games best of 145kg in the clean and jerk for a total of 255kg.
Kristel Ngarlem of Canada claimed silver with a total of 236kg in front of Mary Taiwo Osijo from Nigeria with 225kg.
Finally, Maya Laylor of Canada set a Games record in the clean and jerk of 128kg, also breaking the best for total weight with 228kg to win the women's under-76kg final.
Taiwo Liadi of Nigeria took silver with a new junior Commonwealth record in the clean and jerk with 120kg, while her total of 216kg also broke the junior record.
Maximina Uepa gave Nauru its first medal of the Games in third on 215kg.
SOURCE: INSIDE THE GAMES/PACNEWS