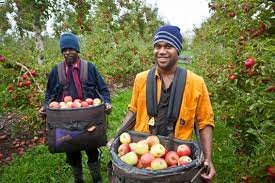 Approximately 12,000 seasonal workers from Vanuatu have been sent to New Zealand and Australia for work over the past two years.
This was conveyed by the Deputy Prime Minister (DPM) and Minister of Internal Affairs who is also responsible for the labour mobility programme, Ishmael Kalsakau.
He said the active labour mobility programme is one of the positive impacts of resetting the country to recover and rebuild from the COVID-19 crisis.
Prime Minister Bob Loughman mentioned in his speech on Independence Day that the labour mobility programme will be reviewed and designed to equip workers with entrepreneur skills, as part of the government's key policy areas in improving revenue and investment policies to target higher economic growth and wealth.
The head of the Government also pointed out the need for continuous dialogue with the development partners on improving the workers' work conditions and welfare.
Recently, it has been brought to the government's attention that a high number of Vanuatu workers have been subjected to poor treatments surrounding wages and working conditions, resulting in absconding.
Vanuatu is the largest supplier of seasonal workers to NZ and Australia.
The seasonal work programmes have been supporting Vanuatu's economy since their establishments.
SOURCE: VANUATU DAILY POST/PACNEWS