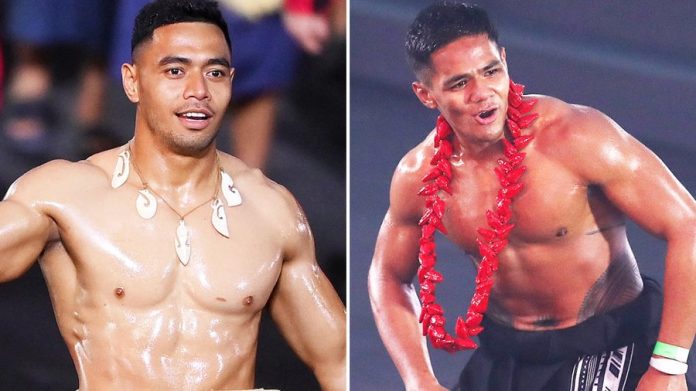 Tonga have continued their tradition of having an oiled-up, shirtless flag bearer lead their team at the opening ceremony of the Commonwealth Games, leaving fans around the world in a frenzy.
Pita Taufatofua became a viral sensation at the 2016 Olympics in Rio when he carried the Tongan flag at the opening ceremony while shirtless.
He then repeated the trick at the 2018 Winter Olympics in PyeongChang, before once again going shirtless for the opening ceremony of the Tokyo Olympics in 2021.
While Taufatofua isn't in attendance at the Commonwealth Games in Birmingham, Tonga still continued their tradition of having a shirtless flag bearer on Thursday night.
And his replacement was just as oiled-up and just as ripped.
A Samoan athlete also ditched his shirt as he marched with his teammates, with fans reacting in hilarious fashion on social media.
Australia's flag bearers – hockey and squash champions Eddie Ockenden and Rachael Grinham – were the first athletes to walk into Alexander Stadium as the Games began on Thursday night.
Electric Light Orchestra's 'Don't Bring Me Down' played as the Aussies were the first country to march into the arena for the 22nd instalment of the Games.
Australia's biggest contingent for a foreign Games – 435 before some late withdrawals – will channel those lyrics as they look to better the 80 gold medals won in 2018 on the Gold Coast.
British pop giants Duran Duran headlined the glitzy ceremony as more than 5000 athletes braced for battle.
Competitors from 72 nations and territories, many of which are former British colonies, will be vying for medals in 19 sports over a jam-packed 11 days.
The opening ceremony at the revamped Alexander Stadium paid tribute to the industrial heritage of Birmingham and celebrated the diversity of its modern make-up.
Prince Charles arrived with his wife Camilla in his personal Aston Martin during a segment highlighting Birmingham's rich history of motor manufacturing.
Nobel Prize laureate Malala Yousafzai, who moved to the city after surviving a Pakistani Taliban assassination attempt when she was 15, said every child deserves the chance to "pursue her wildest dreams".
Prince Charles declared the Games open as Duran Duran got the party started to a backdrop of fireworks across the city.
Charles had earlier met with athletes in the village, joking with members of the Australian team that "all the rest are terrified of the Aussies".
Australia have topped the medal table at every Games since 1990 except in 2014, when England finished top in Glasgow – the last time the event was held on British soil.
England, Scotland, Wales and Northern Ireland compete as separate teams during the Commonwealth Games, rather than as a combined British outfit
SOURCE: YAHOO SPORTS/PACNEWS