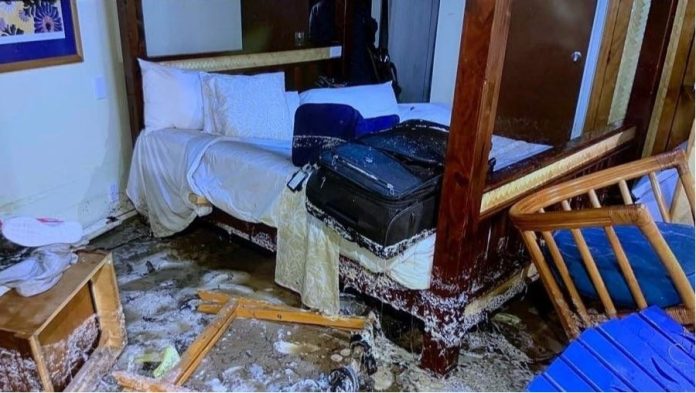 Cook Islands businesses have rallied round in the wake of last week's flooding as they prepare for another battering.
The king tides, which reached as high as 4.5 metres on the south side of Rarotonga, are expected to return on today, with some parts of the island likely to experience swells of close to five metres.
The effect on businesses of last week has been ongoing, with several accommodation providers reporting damage to rooms and general infrastructure.
Cook Islands Tourism Corporation chief executive Karla Eggelton said it sent an online survey to the Tourism Business Sector (TBS) across Rarotonga, Aitutaki and Atiu on Thursday.
The response rate has been 68 percent as of Monday afternoon.
So far, 18 businesses have identified structural damage to their businesses, three businesses have identified capital damage, 55 businesses have identified coastal damage only and 30 businesses have identified no damage at all.
"Overall, Cook Islands Tourism initial assessment suggests few businesses received structural damage," Eggelton said.
"Of course, there a few who were severely affected, but generally coastal damage only was the single most reported damage to businesses.
"National Environment Service has been working to get through the requests for remedial work to reinstate the foreshore and coastal areas where sand has been removed from the beach. Many businesses are doing their best but there are lots of requests for help with machinery and manpower to get beaches back to how they were."
Eggelton said with the new warnings for high waters and waves in the coming days, it would look to complete a second round of surveys. It will use this information to assist Cook Islands Government in developing guidelines for support.
A spokesperson for Infrastructure Cook Islands (ICI) said it had scoped out the damage to infrastructure assets across the affected areas and identified what needs to be done.
"Large volumes of sand and debris has been forced upstream, reducing operating capacity of the streams and has blocked culverts. This is a worry in case we get heavy rainfall – which will increase flooding."
Infrastructure Cook Islands is planning to deposit sand to scoured areas.
"ICI is getting in touch with landowners to request permission to access sites to undertake remedial work," the spokesperson said.
"ICI will be applying for permits from the Environment Service to undertake remedial works."
The spokesperson said ICI remains on alert with the expected return of the high swells.
Meanwhile, accommodation providers are preparing for sea swells forecast to be higher than the waves that caused widespread damage on the island's south coast last week.
Wave conditions for all Southern Group islands are forecast to increase throughout today with wave heights reaching up to five metres tonight, continuing until Thursday.
The high sea swells are forecast to hit the southeastern coast or the Muri area the worst.
Koka Lagoon Cruise owner Serena Hunter operates out of Muri Lagoon.
Hunter said one of the business's boats would be taken out of the water today and the other one would be secured behind the main motu.
"All you can do is secure what you can and hope for the best," Hunter said.
Krystina Tatuava, owner of accommodation Muri Shores Villas, said she received damage from last week's sea surges.
"We thought it was pretty bad, we pretty much lost the beach, it eroded all the way up to the polls of our villa, so we thought it was quite devastating," Tatuava said.
"I guess we never thought it would get that big."
However, Tatuava said the damage was not as bad as some places in Titikaveka.
Monday she was "a bit nervous" about the large swells forecast for this week.
"We've already had damage the first time around and also we just came out of Covid so we're slowly getting on our feet and then bang we're hit with these king tides.
"I think we're going to be doing a bit of manual work (today), do a bit of sandbags and see what we can do with the limited time and resources we have."
Tatuava said her accommodation did not have foreshore protection like boulders.
Liana Scott, general manager of the Muri Beach Club Hotel, said as a precaution the accommodation bagged sandbags and fitted shutters in preparation for Wednesday and Thursday.
"We will not fit these to the rooms as we would rather not disturb the guests view unless and until we have to, so it is more or less in preparation only," Scott, who is also the president of the Tourism Industry Council, said.
"Some sun loungers will be moved to the poolside area as it is very sheltered around the pool and guests can still enjoy time in the sun, and any loose items on the beach will also be removed where necessary.
"We have prepared and blocked out alternative rooms within the hotel should guests be required to move, but hopefully this will not be required."
Scott said additional staff would also be rostered throughout the night if they needed to be.
Gwen Welland, owner of Muri Beach Cottages, said she was not really affected by the sea surges last week except for rubbish that washed up like coconuts and wood.
"There's really nothing we can do except make sure we don't have stuff sitting on the beach," Welland said.
"I think the last one came more from the south and if it turns more towards the east then we will be more affected along here."
Welland said her property had boulders out the front of her section to protect it.
"We're quite high up on the beach actually, just the way the topography is along here."
The Rarotongan Resort owner Tata Crocombe put up a post on the local Rarotonga Community Facebook page asking for a "building inland well away from the coast that could accommodate up to 300 people" in the event that they have to evacuate the resort.
Last week the Arorangi based resort had to evacuate guests staying in their beachfront rooms after strong sea surges flooded the rooms.
"Emergency Management Cook Islands does not have anything suitable and our previous designated evacuation centre is a school which is in full operation," the post said.
Crocombe in an interview with Stuff said tourists should consider changing their travel plans this week.
"We know people still want to come but anyone that is coming needs to know that while it is safe, the island won't be fully operational," Crocombe said.
SOURCE: COOK ISLANDS NEWS/PACNEWS