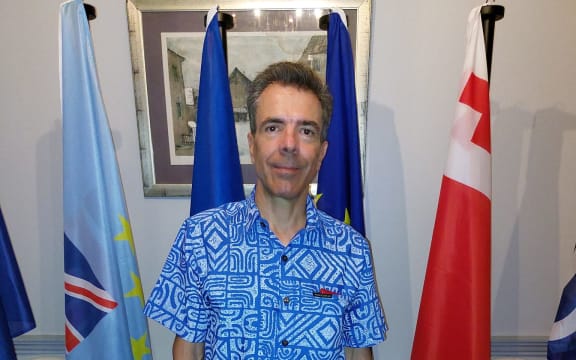 France's Ambassador to Fiji, Kiribati, Nauru, Tonga and Tuvalu says his country shares the Pacific's ambition for regional integration.
As major powers China and the United States lock horns to battle for influence in the region, François-Xavier Léger said working together cooperatively was "part of France's DNA and diplomacy."
Speaking at the 233rd Bastille Day Anniversary celebrations in Suva on Monday night, Léger stressed that France was embedded into the South Pacific through its overseas territories in New Caledonia, French Polynesia and Wallis and Futuna.
He said due to this presence the French government and its army were well positioned to respond to a number of common challenges faced by his country and the region, including providing disaster response support and the fight against climate change.
"We do it in partnership with Australia and New Zealand, under the FRANZ mechanism [an agreement between France Australia and New Zealand to provide humanitarian assistance to Pacific nations in times disasters]."
"We also do it with the support of the European Union," Leger told high-level guests at the event.
He said because of France's proximity to Pacific Islands Forum member countries, through its overseas territories in the region, there were also opportunities for France to develop trade and people exchanges between Pacific insular countries and the three French territories.
"We can propose French solutions to the needs expressed by our partners, particularly in the field of energy transition. We can collaborate through networks of universities and researchers, on environment, or on food."
In May this year, France deployed the landing of the Gondwana 2, a second international submarine cable measuring more than 1500km in length, between New Caledonia and Fiji.
Leger said through such initiatives France and the Pacific "are gaining in security, attractiveness, competitiveness and sovereignty."
But while Paris wants to remain present in the region, New Caledonia's pro-independence president, Louis Mapou, believes "the future for New Caledonia is not in Europe", as efforts for self-determination continue.
"No doubt France needs New Caledonia and French Polynesia to defend its Indo Pacific strategy in the Pacific, in the face of the other powers concerned," Mapou told Reuters.
"It is not our project; our project is to become more fully engaged in the region," he said.
SOURCE: RNZ PACIFIC/PACNEWS