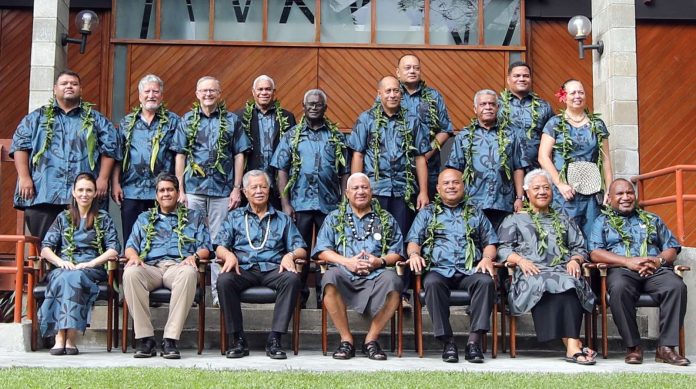 Papua New Guinea Prime Minister James Marape says the Pacific Islands' ocean holds 60 percent of the world's tuna resources and "that is our global economic strength".
"If we stand together, we can ensure that we get the best deal for our countries," he said in his address at the Pacific Islands Forum in Fiji last week.
"This Forum must be the instrument to unite all of us with one voice.
"That unity must prevail under all circumstances.
"Our organisation must be representative of all our diversity.
"No voice is too small, no voice is too big, all of us are equal.
"Leadership within this forum must be rotated among all Pacific countries and recognise the fact that we are all equal.
Marape said the Forum was still very much relevant today and the 16 current members stood equal.
"It must be representative of our unity as a family of nations,"he said.
"This togetherness gives us the muscle to overcome the many challenges we face in the contemporary Pacific, such as climate change, economic issues, and theft of our resources such as those in the sea, to name a few.
Marape warned that here were also bigger forces at play within the region through geo-politics.
PNG's foreign policy remains that "we are friends to all and enemies to none".
"With no good reasons, someone else's enemy is not my enemy," Marape said. "And our intrinsic peaceful Pacific ways must pacify all forces and interests in our region.
"In this day and age, foreign relationships are not just historical or philosophical, but more to do with trade and commerce for our national economies.
"There is a need for greater trade and commerce not just among ourselves within the forum, but outside our region too, hence, the need to sustain our economies is very much a reality.
"Look at the example of Nauru,
"It was once very rich from phosphate with one of the highest Gross Domestic Product per capita in the world.
However, it is so different today.
"That should not be the case in a Pacific region of abundance in maritime and land resources.
"We in the Pacific must use this unity of nations to push for our collective economic well-being to develop and sustain our countries.
"For instance, in PNG, we do not want to compromise relationships with our fellow Asia-Pacific Economic Cooperation (APEC) countries because those trade relationships keep our economy functional.
"The Pacific is and must be a friendly region to all, especially those that sincerely respect our national and Pacific interests.
Marape proposed the following measures to keep the Pacific economically strong:
*Step up internal trade and commerce among Pacific nations;
*Our friendly nations must help more in areas of commerce and trade, not just aids and grants;
*Ensure exposure to climate change and other globally-induced hardships be collectively addressed and advocated by the Forum;
*The Forum must be contemporary whilst maintaining its core historical values; and
*Pacific nations must have person-to-person, business-to-business relationships too and not just government-to-government.
Marape said: "We are now outlaying a 2050 strategy".
SOURCE: THE NATIONAL/PACNEWS